Jason Segel Can Somehow Smile and Ride a Scooter After Michelle Williams Break-Up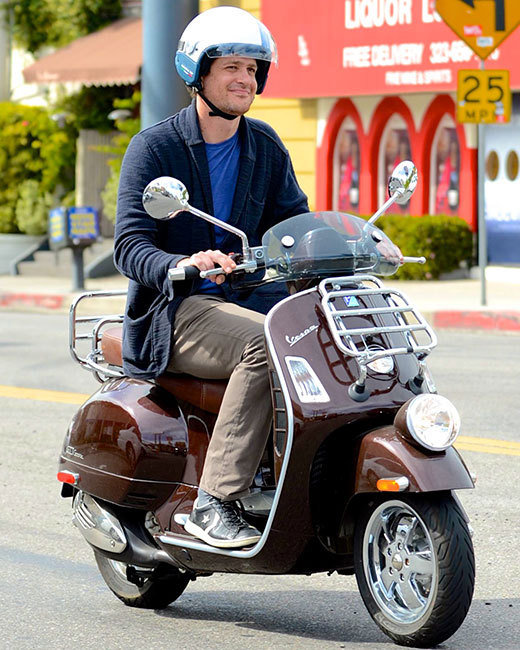 Stop the presses! Jason Segel is happy! On a scooter! After a break-up with Michelle Williams! Time to get worried, hyper-speculative, and melodramatic!
Apparently, the Internet took Segel's free-wheelin' ways to mean that we should be worried for his mental health, because several outlets posted the picture alluding to the break-up as a reason it was newsworthy. Sure, it's the first picture of him out in public that anyone's seen since the break up, but it's nothing special. A man clad in blue sits on a scooter. It's as if the man was climbing Mount Everest after his entire family was devoured by a pack of wolves. How strong he is! 
RELATED: Jason Segel and Michelle Williams Split
How is this possible? Could it really be true? Has our favorite goofy tall actor really been able to survive a break-up this well? It's amazing that in day-to-day life, Jason Segel is able to lift his head and get out of bed after an allegedly amicable split. Amicable! Throw some more salt in his wounds, tabloids. 
Look at the poor fella — obviously distraught and living life in a downward spiral of shame and regret — riding around on a brown (Brown! The official color of sadness after black. And puce!) Vespa scooter. Probably because it's too early for car usage (obviously) — it's much too much for a person to even think about getting behind the controls of a four-wheeled vehicle! Take your time, Segel — you have clearly suffered the wounds of an emotional warrior. We're proud that you have managed to keep buggering on: a true hero to the broken-hearted everywhere. Somebody get this man a fainting couch.
RELATED: Jason and Michelle, No! Why Do All The Good Ones Split?
But seriously — why in the f**k is anyone worried about Jason Segel? He's wearing a helmet (safety first!), he's smiling, he has a well-documented love of scooting, and it's beautiful out in Los Angeles right now. He's on a hit television show and got to be in a movie with his heroes, The Muppets! Something tells me that Segel ain't mad at life right now, even if his relationship ended.
What do you think of Segel's scooting skills? Are you amazed at his incredible ability to manage life, love, and loss at at once? Let us know, in the comments. Stay strong, Jason! America cares! (Apparently too much.)
Follow Alicia on Twitter @alicialutes
[Photo Credit: Dean/Bryan/NPG]
---
From Our Partners:


40 Most Revealing See-Through Red Carpet Looks (Vh1)


15 Stars Share Secrets of their Sex Lives (Celebuzz)