Jay-Z Squashes Rumors, Calls out Haters in His 'Open Letter'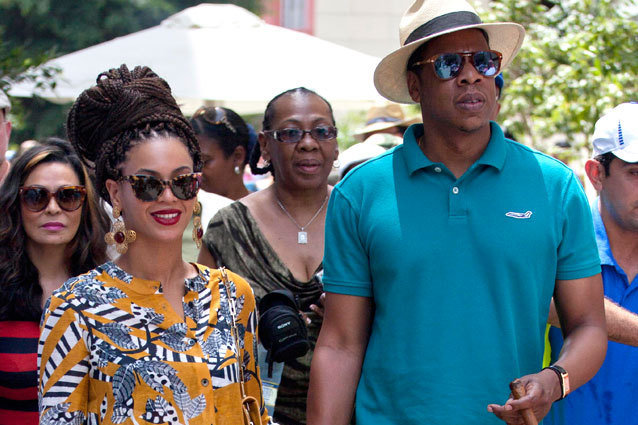 Hova's not about to let the haters win. 
Jay-Z has responded to critics of his trip to Cuba with wife Beyoncé and rumors that he may be selling his share in the Brooklyn Nets in the most blistering way he can: via some mean raps in the new song "Open Letter," which he released online April 11.
So what was the deal with that Cuban trip? Jay says upfront that he and Bey "done turned Havana to Atlanta" and that they'll "be ballin' 'til they ban us." Turning an aging communist regime into a haven of conspicuous American consumption? What more could the U.S. government have asked for? Still, he and Beyoncé drew some pretty serious criticism last week for the trip, as the travel ban against Cuba remains very much in force. But if a trip to the island nation is for "academic, religious, or cultural purposes" it can receive authorization from the U.S. government. This trip did just that, but Jay suggests that President Obama, apparently on speed-dial in his household, was against the idea: "Obama said chill, you gonna get me impeached/You don't need this s**t anyway, chill with me on the beach."
Jay-Z also raises the very legitimate point that half of our products come from China, a nation that's still communist (if in name only), so why the double standard toward Cuba? "I'm in Cuba, I love Cubans/This communist talk is so confusing / When it's from China the very mic that I'm using."
Oh, and those rumors that he's thinking about selling his share in the Brooklyn Nets? Yeah, he had something to say about that too: "I still own the building/ I'm still keeping my seats," he raps. "Y'all buy that bulls**t, y'all better keep y'all receipts." And lest you doubt his Nets fandom: "Would've brought the Nets to Brooklyn for free," he cleverly points out. "Except I made millions off you f**king dweebs." Is calling the fans of your sports team "dweebs" really the best business strategy?
Listen to the song below and tell us what you think in the comments!
More:
Beyonce and Jay-Z's Cuba Trip Was Not Illegal
Beyonce's Pepsi Ad: Did Britney Do It Better
Beyonce Steals the Spotlight In New 'Great Gatsby' Trailer
Follow Christian Blauvelt on Twitter @Ctblauvelt
---
From Our Partners:


Eva Longoria Bikinis on Spring Break (Celebuzz)


33 Child Stars: Where Are They Now? (Celebuzz)