6 Things We Learned About Jay Z and Beyonce from Jay's 'Vanity Fair' Interview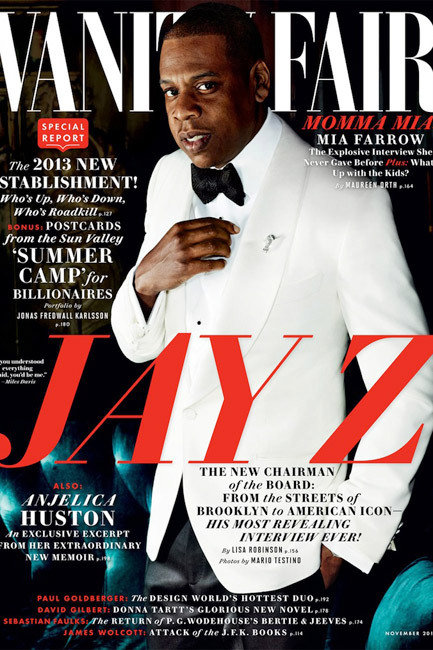 Vanity Fair
In the latest issue of Vanity Fair, Jay Z opened up to Lisa Robinson in an interview about how he sees himself as a business, man. Beyond going over how he's made money over the years (including some uncomfortable reminders of his drug dealing past) and refusing to reveal exactly how much sport agenting, music producing, and basketball team co-owning has earned him (though according to Forbes, it's somewhere in the neighborhood of $500 million), Jay Z took a break from talking about famous friends like Kanye or even his latest album, Magna Carta Holy Grail, in order take a minute to talk about himself.
Sidenote: Jay/Beyoncé's friend and frequent concert attendee Gwyneth Paltrow is currently waging a war on the magazine. How does she feel about the fact that not only are the Carters working with the magazine, but Jay Z is actually on the cover! With a full spread inside. Stay tuned, we may have to report the death of a celebrity friendship sometime soon.
The most surprising thing about this interview is how candid and willing Jay Z is to talk about his family life. While his wife is a frequent user of social media and even made a documentary about herself, their relationship has generally been kept pretty private, especially considering that they've been together for over 10 years and have one amazing child.
1. Jay doesn't play his music around the house. Understandable, considering the 18-month old audience that lives with him. 
2. Beyoncé, by contrast, shows the baby her concert videos every night, prompting Jay Z to believe Blue already has a preference for her mother's sound. 
3. You can't just waltz up to Beyoncé and get a date — Jay says his woman needed to be wooed. "…You've got to try first. You got to dazzle … wine and dine."
4. However, he's confident that they'd still be together even if they weren't both music superstars. Why? Because, as he says, he's so cool. When they met, he describes Bey as "a charming Southern girl." But now? "She's a gangsta!"
5. When it comes to insulting rumors, like those that doubted Beyoncé would risk her figure with a pregnancy, the Carters take the high road — no commenting to tabloids. Despite all of the tours, the and the boasting on the track, Jay Z thinks he and Beyoncé are just the gangsta, cool version of a normal couple, happy with their lives and their (very real, and cute) baby.
6. Apparently, they trademarked the name "Blue Ivy" so no one else would use it to brand a product. But out of everything he said in the interview, this rings the most false. So there's never going to be a Blue Ivy anything? There's got to at least be a hit single or a remix with that name. Not even a perfume? Come on.
More:
Famous Works of Art Get Beyoncé Makeovers
Here's How to Vacation Like Beyonce
Beyoncé's Perfume is No 1: What Sense Will She Take Over Next?
---
From Our Partners:


A Complete History Of Twerking (1993-2013) (Vh1)


15 Stars Share Secrets of their Sex Lives (Celebuzz)