Jeff Timmons: Who Would Win Ultimate Boy Band Death Match? — EXCLUSIVE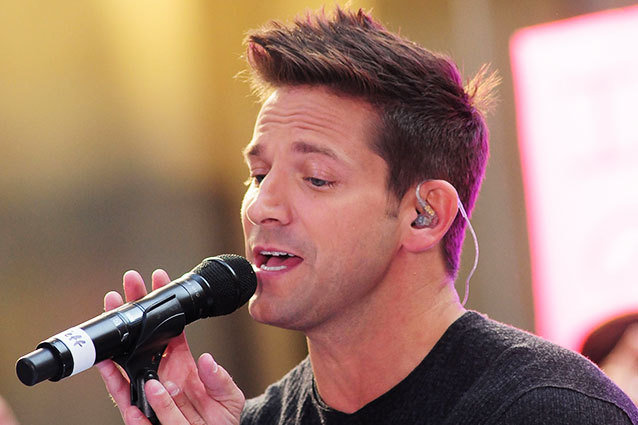 A lot has changed for the children of the '90s since our Trapper Keeper toting days. Most of us are in our 20s or early 30s. We may be married, starting our anti-aging battles against gray hairs and facial lines, or even have kids of our own. And like us, pop culture has changed. No longer do we tape our favorite shows on a VHS cassette and turn on the radio to hear our beloved Britneys, Christinas, and boy bands. Until now. Prepare yourself for nostalgia overload, as some of our favorite '90s boy bands are poised for a major comeback.
This summer, the kids within us will be reawakened as a major boy band summer tour featuring New Kids on the Block, 98 Degrees, and Boyz II Men kicks into full gear. And in celebration of this epic event, it's time to put the former boy bands to the test. Jeff Timmons of 98 Degrees judges the ultimate boy band death match. Who will hold the spotlight in this faceoff?
RELATED: Jeff Timmons: Joey Lawrence Better Get Ready for Chippendales
The Boy Band Death Match Begins:
Round One: The Dance-Off
Winner: 'N Sync. "'N Sync would kill us all," Timmons tells Hollywood.com. "Those guys are the dancing troop. They are amazing."
Round Two: The Fistfight
Winner: 98 Degrees. "That's us, easily," Timmons says. "We are a bunch of brawlers. We're Ohio guys, blue-collar guys, all sports guys that ended up doing music, not music guys that went into sports. So, we would win a fistfight easily." And Timmons thinks that New Kids on the Block would be their fiercest competition. "The Boston guys are pretty scrappy," he says. "They might give us a run for our money."
Round Three: The Jeopardy Test of Wits
Winners: 98 Degrees or NKOTB. "It would be a toss-up between us and the New Kids," Timmons says. "The Lache brothers are pretty cerebral —those guys are pretty smart — so we might be pretty good. Although the New Kids [have] Donnie Wahlberg [and] he's pretty quick-witted. He sounds pretty educated."
Round Four: The Fashion Face-off
Winner: Boyz II Men. "They are always pretty savvy with fashion," Timmons says. "They would win. 'N Sync does a little more of space age, kind of out there, funky style. And we're always kind of conservative. Boyz II Men are the most fashion [forward] looking group out of everybody."
Round Five: The Shirts-Off Contest:
Winner: New Kids on the Block. "The New Kids are in pretty good shape," Timmons says.
Round Six: The Sing-off
Winner: Boyz II Men. "Boyz II Men wins that hands down," Timmons says. "It's not even a competition when it comes to live singing. We can kind of hold a candle to them, but Boyz II Men is amazing. They sound just like a record in person. We're pretty good with the harmonies and everything, but, no question about it, Boyz II Men are high above anybody else."



New Album and Tour

Timmons may list his competitors as winners in the boy band death match, but in real life, 98 Degrees may be coming out on top this year. They've got a new album in the works and a hot summer tour lined up.

While a release date has yet to be set for the new album, the boys (or men, now) have already returned to the studio to start recording. Timmons tells us that the album will be all new tracks and will incorporate "some new sounds." "We're R&B guys at heart, so it's going to have some R&B flavor to it," he says. "[And back in the '90s,] primarily, we were known as balladeers; [We'd] sing slow songs. Nowadays, it's all up-tempo songs on the radio, so we're trying to see how we fit in that."

Timmons is hoping that one song in particular makes the cut for the new album. "It's called 'Microphone,' and I actually hope it is the first single," he says. "It's pretty kick ass. It's definitely radio friendly and a big hit." Timmons feels that the single really shows off his band's talents. "We all sound great on it," he says. "The production is amazing, the writers are cool, [and the] song is pretty killer."

But don't worry, 98 Degree fans, the band will be bringing back some of their more popular tunes when they hit the road this summer with Boyz II Men and NKOTB. And concert-goers will get a good taste of all of the bands' flavors. According to Timmons, 98 Degrees and Boyz II Men will each perform a 40-minute set before New Kids takes to the stage for their headlining act. 

If a medley of throwback jams isn't enough to entice you, maybe the possibility of some '90s fashion will be. Timmons tells us he will never say never to breaking out some of the band's old school costumes to liven up their performances. "It might be cool! It might be something we do… but I don't know. Everybody nowadays is too cool for school to maybe take that risk," he says. "We had silver jumpsuits at one point. We can just rock that sh*t and then see what everybody does."

But all joking aside, the summer tour holds a special place in Timmons' heart, as it was Boyz II Men who helped inspire Timmons and his band to break into music. "I was singing their songs in the shower in college," he says.

RELATED: Jeff Timmons: On Nostalgia and More

98 Degrees even crashed a concert to get Boyz II Men's attention. "We were like, 'Okay, Boyz II Men got discovered singing backstage at a concert,'" Timmons says. "'We're going to go to their concert and do the same thing.' We bought tickets to the show, went to the show, sang our way backstage, and got on the radio," he says. "Then we got discovered back there and we ended up getting signed to Motown just like Boyz II Men did."

Because of their history, 98 Degrees is excited to take the stage with Boyz II Men, and they're thrilled to be touring with NKOTB as well. "New Kids on the Block, despite what people say about them, sold more records than any of us," Timmons says. "They had a tremendous amount of success. They are great guys and they are talented. To be on a bill with both of those legendary acts, I've got to pinch myself. I'm lucky to be here."

"We're all just lucky to be in the business still after this many years and having the opportunity to go on tour," Timmons adds.

Follow Lindsey DiMattina on Twitter @LDimat

[Photo Credit: Dan Jackman/Wenn]
---
From Our Partners:

40 Hottest Celeb Twitpics of the Month (Vh1)

'Sports Illustrated' Swimsuit Issue: A Visual History (Celebuzz)