Jenelle Evans, 'Teen Mom 2' Star, Married — Is Her Husband a Criminal?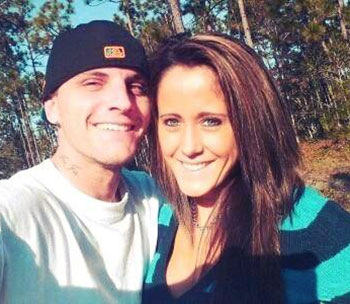 Teen Mom 2 star Jenelle Evans has moved on from one bad boy to the next. After she reportedly reunited with her ex Kieffer Delp — who spent time in prison for drug charges earlier this year — the MTV star began dating a new guy, Courtland Rogers. And after just three months of dating, the two tied the knot in a shotgun courthouse wedding on Tuesday, a Brunswick County, North Carolina magistrate confirms to Hollywood.com.
"Yeah its true," Evans' attorney, Dustin Sullivan, tells Hollywood.com. "I found out afterwards as well and I was at the courthouse."
But Evans and Rogers were also in the courthouse on Tuesday for another, non-nuptial related, reason. "The two were married at the courthouse by a magistrate after Courtland had his first appearance for his pending felony charge," Sullivan says. "He was in court for obtaining property by false pretenses and shoplifting."
So much for a honeymoon! Evans has always had a knack for attracting bad boys, starting with her child's father, Charles Andrew Lewis, who basically disappeared from Evans' life after she gave birth to their son Jace. Lewis was followed by the aforementioned Kieffer Delp and, earlier this year, Evans was briefly engaged to Gary Head. Evans and Head called off their engagement after they were both were arrested following a domestic dispute in June.
Now, Evans, who herself has been arrested five times, is married to a man who is currently fighting a felony charge in court. Well, they do say that couples should take an interest in each other's hobbies… 
Follow Lindsey on Twitter @LDiMat.
[Photo Credit: Twitter]
More:
'Teen Mom 2' Star Jenelle Evans Arrested for Drugs and Assault
'Teen Mom' Amber Portwood Begins Her Prison Sentence
'Teen Mom' Amber Portwood's Behind-Bars Interview: 'I Took 30 Suboxone' — VIDEO

Harry Styles Spotted Outside Taylor Swift's Hotel Room The Morning After Their Date Night (PHOTOS)

Fall Bikini Bodies: The Good, The Great, The OMG (GALLERY)