Jenni Rivera's Legacy Lives On With Film Release Date and TV Marathon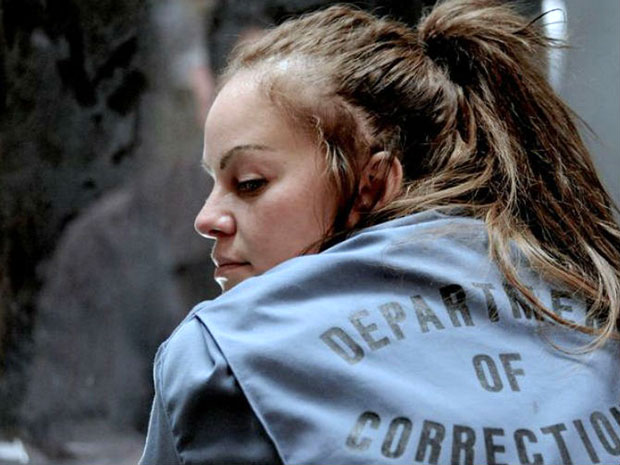 Fans devastated by the loss of Mexican-American singer and reality television star Jenni Rivera, who tragically died in a plane crash on Sunday, will still get to appreciate the body of work she left behind. In the week following Rivera's tragic death, Spanish-language network mun2 is running a marathon of Rivera's reality series I Love Jenni on their channel, continuing Tuesday night and Wednesday night, as well as the show which she executive produced, Jenni Rivera Presents: Chiquis 'n Control, airing on Thursday and Friday. 
Like other stars who passed before their time, Rivera had a yet-to-be-released project. The 42-year-old had her debut film role in the indie drama Filly Brown, which screened at 2012's Sundance Film Festival. In the film about an aspiring poet/rapper (Gina Rodriguez), Rivera plays Maria, the incarcerated mother of the rising star who tries to maintain a relationship with her daughter. Rivera, pictured here in a scene from the film, had just a few scenes, but they were standout, emotional ones, nonetheless. 
The movie is slated for a limited April 2013 release (starting in approximately 100 theaters) and those who worked with Rivera on the project are coming to terms with the loss of their co-star, who many said had a generous nature on set. 
In a statement released to
E!
, Rivera's
Filly Brown
cast mate
Edward James Olmos
said, "The world lost an extraordinary talent in the realm of
Judy Garland
,
Barbara Streisand
, and
Frank Sinatra
, who took their singing artistry and became dramatic artists in film and television. Jenni Rivera was destined to surpass any artist that we have ever seen coming from the Mexican American culture. She was just starting. My love to her family, especially her children and her mother and father." 
During an interview with the
Los Angeles Times
, one of the film's directors 
Youssef Delara
(who said that
Filly Brown
would have marked "just the beginning of Jenni's acting career") recalled that Rivera anonymously gave her payment for the movie to a photographer on the production who seemed to need the money. Rodriguez noted her generous spirit as well, telling the
LA Times
, "On set, she found out the second assistant director's mom loved her and then brought her a signed picture, perfume and CD … She empowered all and still will."
Michael Olmos, the film's other director, put it simply: "She was so honest and open with her life. There was never a wall between her in a professional level and her in a personal level."
[Photo credit: John Castillo] 
More: 
Jenni Rivera Plane Crash: Mexican Officials Say No Survivors