Jennifer Aniston Battles Bill O'Reilly Over Parenting In The USA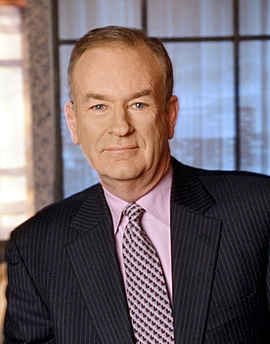 In her new film The Switch, Jennifer Aniston plays an unmarried 40-year-old woman who gives up on the notion of finding Mr. Right and contracts a sperm donor to have a child. Though it was plagued by distribution drama after Disney put Miramax Films up for sale, The Switch (which co-stars Jason Bateman, Patrick Wilson, Juliette Lewis and Jeff Goldblum) is set to bow in theaters nationwide on August 20th and its looming release date has headline stealing commentator Bill O'Reilly doing his thang.
While promoting the film, Aniston acknowledged the possibly controversial subject matter of the story, noting that "times have changed" and that "women are realizing it more and more knowing that they don't have to settle with a man just to have that child. Love is love and family is what is around you and who is in your immediate sphere." Well, all-American O'Reilly didn't take kindly to Jen's views on modern parenting and retaliated with his own scathing analysis of the state of the nuclear family.
"She's throwing a message out to 12-year-olds and 13-year-olds that hey, you don't need a guy, you don't need a dad," O'Reilly said on his somehow top-rated Fox News show The O'Reilly Factor, adding that "Aniston can hire a battery of people to help her, but she cannot hire a dad." Unfortunately but not unsurprisingly, O'Reilly has twisted the statement of a well-known public figure to turn heads in his direction, since his bullheaded political views make him more irrelevant as the days go by. The public is well aware of Ms. Aniston's financial status and her highly-publicized relationships with some of Hollywood's biggest stars. Despite her comments, she hasn't decided to crank out a fatherless child just because physically she doesn't need one. She's been waiting for Mr. Right for years and will continue to do so because she chooses to, just like every woman has the right to choose what to do with her body. 
Continuing on, Bill stressed the importance of the male presence in a child's life: "I think that men get hosed all day long in the parental arena…any man who leaves their children is not a man. Let's make that perfectly clear. But the fathers who do try hard are under-appreciated and diminished by people like Jennifer Aniston." Though I agree that having a father is a wonderful thing (I don't know where I'd be in life if I didn't have a male and female influence on my upbringing), as usual, O'Reilly cast a web of distorted truth over Aniston's statement and turned it into a man-hating meditation. Not once did she say that having a mother and father isn't ideal, she simply told the truth about the society in which we live – where approximately 21 million children are being raised by one parent and a staggering 83 percent of those households are headed by a single mother (via SingleSpouse.com). Nor did she encourage young woman to skip marriage and go straight into motherhood. She's telling it like it is, something that Bill should try sometime.
While I don't think that Jen has lost any sleep over O'Reilly's attack, the elegant actress seems to have had the last laugh as she comically responded to his negativity: "Of course, the ideal scenario for parenting is obviously two parents of a mature age. Parenting is one of the hardest jobs on earth," Aniston told People magazine. "And, of course, many women dream of finding Prince Charming (with fatherly instincts), but for those who've not yet found their Bill O'Reilly, I'm just glad science has provided a few other options." Beautifully said, Jen. After all, most women I know would take a test tube over bumbling Bill any day of the week.
Source: CBS News, SingleSpouse, People