Jennifer Aniston Laughs At $8K Beauty Routine Rumors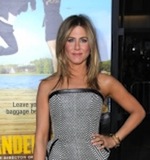 Were you wondering how Jennifer Aniston manages to spend $8,000 per month on her beauty routine? She is too. Though rumors have been circulating about the star's over the top beauty bill, she says they're totally untrue.
"Although I am a sucker for an amazing moisturizer, love a great facial, have been using the same cleansing bar since I was a teenager and have always been a dedicated tooth-brusher, reports that I am spending eight thousand a month on a beauty regime are greatly exaggerated," says the Wanderlust star.
The real cost: "This month I'm in for about two hundred bucks," says Aniston. Apparently it pays to be naturally beautiful!
Source: People