Jennifer Lawrence Bikinis in Hawaii: Her 15 Sexiest Pics
While we're all feeling a little chunky after the big Thanksgiving pig-out, Jennifer Lawrence showed why she's known for having one of the sexiest bodies in Hollywood. The Hunger Games and Silver Linings Playbook star bared her mashed-potato-and-stuffing-free figure while on vacation in Hawaii, here on November 22.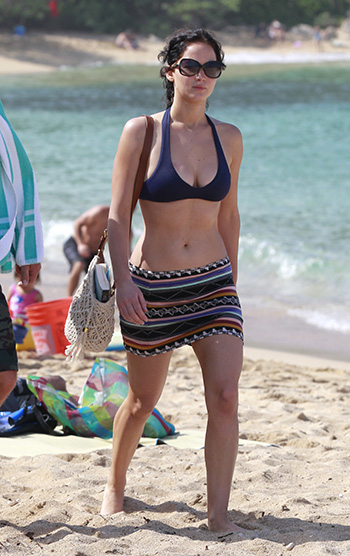 Lawrence has become the de facto poster girl for body image in Hollywood, taking the baton from another talented actress who was blessed (or cursed) with the mantle, Kate Winslet. In recent weeks, the 22-year-old caught some heat by calling herself "obese" in an interview but later clarified that she was being sarcastic. We'll say!
Now, to kickstart that post-Thanksgiving diet, take a look at 14 more of Katniss' sexiest looks ever: 
Sultry in Silver in 2009