Jennifer Livingston, CBS' WKBT News Anchor, Puts Bullies in Their Place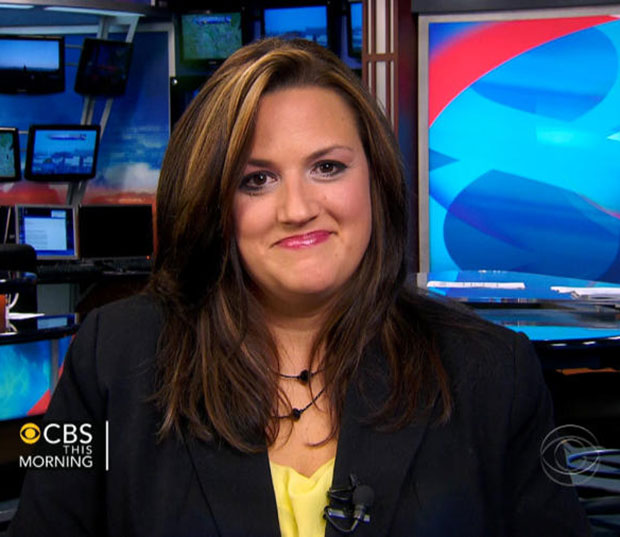 Mean people suck. It was true when it was stickered on every car's bumper sticker, it's still true in the age of Internet hatred, and it will continue to be true until we figure out a way to eradicate mean people from this planet forever (which will never happen). But that doesn't mean we need to take meanness lying down. Jennifer Livingston, a local news anchor for the CBS affiliate WKBT in La Crosse, Wis., reminded us all of this on Tuesday's broadcast, when she responded to a piece of hate mail she received.
The email Livingston received, which was labeled "Community responsibility," is as follows: "It's unusual that I see your morning show, but I did so for a very short time today. I was surprised indeed to witness that your physical condition hasn't improved for many years. Surely you don't consider yourself a suitable example for this community's young people, girls in particular. Obesity is one of the worst choices a person can make and one of the most dangerous habits to maintain. I leave you this note hoping that you'll reconsider your responsibility as a local public personality to present and promote a healthy lifestyle."My note to the writer: Surely, you know that you're an a**hole. Livingston, however didn't stoop to the letter-writer's (or my) level of name-calling. Instead, she handled the situation with grace, honesty, and compassion, thereby setting a great example for children who may face this same kind of name-calling and bullying at school.
"The truth is, I am overweight," Livingston begins. "You could call me fat. And yes, even obese on a doctor's chart. But to the person who wrote me that letter, do you think I don't know that? That your cruel words are pointing out something I don't see? … I am much more than a number on a scale."
Livingston goes on to point out that October is National Anti-Bullying Month and that bullying is a major issue in our schools. "Now, I am a grown woman, and luckily I have a very thick skin — literally, as that email pointed out, and otherwise — and that man's words mean nothing to me. But what really angers me about this is there are children who don't know better. Who get emails as critical as the ones I received or in many cases even worse each and every day. The Internet has become a weapon, our schools have become a battleground, and this behavior is learned."
She concludes, "We need to teach our kids how to be kind, not critical, and we need to do that by example."
Bravo, Livingston. Whoever wrote that email may talk about the "fat news lady" in his home, but thanks to your classy, tactful, and pointed rebuttal, households all over the country will now be talking about the "courageous, inspiring, news lady."
Livingston appeared on the Today show to explain why she decided to discuss this particular letter on air. "It was calling me a bad role model that really rubbed me the wrong way," she said. Watch Livingston's Today interview below.
Visit NBCNews.com for breaking news, world news, and news about the economy
Follow Abbey Stone on Twitter @abbeystone
[Photo Credit: CBS]
More:
Adele Says She Doesn't Use Sex to Sell Records
Staten Island Borough President Calls Lady Gaga a 'Slut'
Britney, Jessica, Christina, Adele, Lady Gaga: Stop Body-Shaming Pop Stars
From Our Partners:

Caught In the Act: Chris Brown Photographed Leaving Same Hotel Where Rihanna Is Staying — PHOTOS
(Celebuzz)

(Moviefone)