Jennifer Lopez Dances with Wolves in 'Goin' In' Video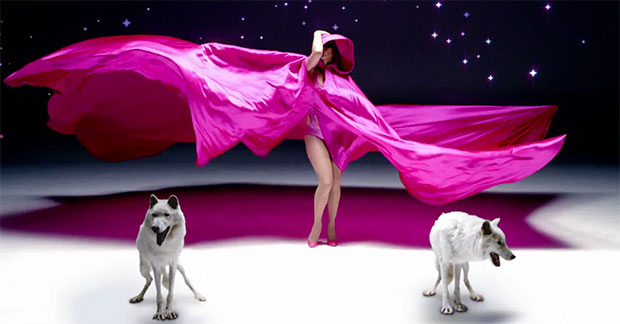 Jennifer Lopez
's new video for her single "Goin' In" was released Wednesday in an explosion of neon paint and glitter. The heavily synched dance track, which will be featured on the soundtrack for
Step Up Revolution
as well as Lopez's recently-released greatest hits album
Dance Again… The Hits
, is not a groundbreaking piece of composition, but it sure is a catchy song. 
Unburdened by a narrative thread or deeper underlying themes, the video for "Goin' In" is free to jump between as many ridiculous gimmicks and visual effects as it wants — which is a lot. First, we are treated to an extreme close-up of Lopez and her rhinestone encrusted lips (which immediately remind us of U.S. Olympic swimmer
Ryan Lochte
's grill
), pouting stiffly to blow dandelion spores into the air. The spores turn into fuchsia twinkles and, as the glitter settles, Lopez reappears cloaked in a hot pink sateen cape, flanked by two white wolves.*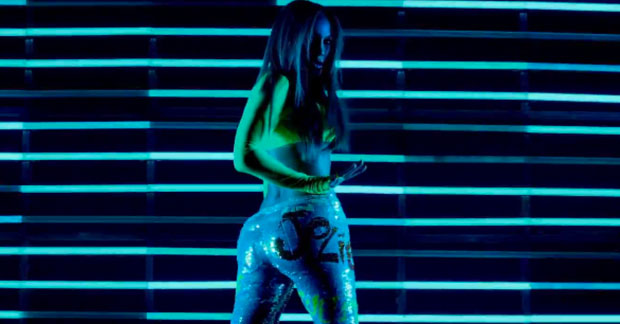 "Goin' In" then begins to cut between different shots of Lopez wearing a number of outfits that leave little to the imagination, including a crop-top and hoodie ensemble that is straight from her Jenny from the Block era. Seeing that "Goin' In" is a soundtrack song, the video must also include scenes from Step Up Revolution. And, to remind everyone that she was once a dancer, too, Lopez bangs out a full four 8-counts of choreography. Not too bad for a 43-year-old. 
Notably missing from the video is Lopez's new beau, 25-year-old dancer/choreographer Casper Smart, who was featured prominently in her video for "Dance Again."
Fasten your seatbelt, here's "Goin' In." 
[Photo Credit: Island/Def Jam]