Jennifer Lopez's Right Nipple Craves the Spotlight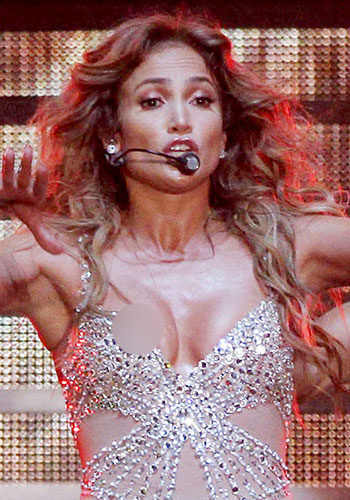 Considering the evidence — one green Versace Grammys dress, one gold Golden Globes dress, and one orange Michael Kors gown, for starters — you would think that Jennifer Lopez would understand the finer points of using boob tape by now. But, as we learned during Lopez's concert at the Unipol Arena in Bologna, Italy, on Thursday night, she hasn't quite gotten the hang of it.
While performing a high-energy number, Lopez's sheer, bedazzled bodysuit shifted just slightly, giving audience members — and photographers — a peek at one of her upper body private ladybits (that's a polite way of saying "nipple"). Don't you do dress rehearsals to make sure these sorts of things don't happen? But Lopez, a seasoned performer, didn't skip a beat. She just tucked her boob back into place and kept on keeping on — because the show must go on!
Of course, this isn't the first time Lopez failed to leave anything to the imagination on stage. Remember the too-sheer Zuhair Murad gown Lopez wore while presenting at the 2012 Oscars? Or, rather, remember how you could see a hint of Lopez's nipple when she presented at the 2012 Oscars? I thought you would.
Maybe, JLo's right nipple should team up with Angelina Jolie's right leg for a spinoff reality show. We can call it The Real Body Parts of Hollywood's A-List.
Follow Abbey Stone on Twitter @abbeystone
[Photo Credit: Kika Press/Pacific Coast News]
More:
Finally, We'll Get to See All of Jennifer Lopez in 3D
Jennifer Lopez Dances with Wolves in 'Goin' In' Video
Jennifer Lopez Blindfolds Her Boyfriend & Rubs His Body — PICS
From Our Partners:

Kristen Stewart and Robert Pattinson Cuddle at Chateau Marmont: 15 of the 'Twilight' Couple's Most Romantic Date Nights — GALLERY
(Celebuzz)

Reese Witherspoon Debuts Post-Baby Figure Two Weeks After Giving Birth — PHOTOS
(Celebuzz)