Jennifer Lopez's Sexy Boxing Photo Shoot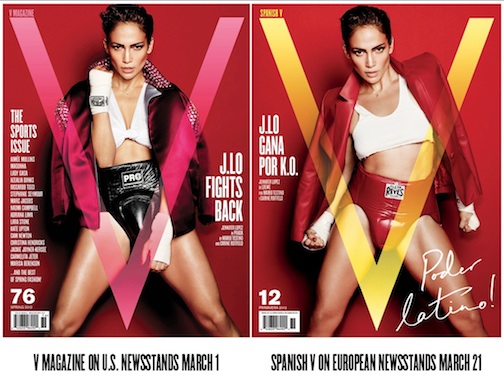 Don't mess with Jenny from the Block. Jennifer Lopez recently posed in boxing gear for the March issue of V Magazine in a series of racy images shot by famed photographer Mario Testino.
On the cover, you can see the American Idol judge sporting a cropped top, and groin protector, and rocking a bedazzled jacket slung around her shoulders. The star also appears to have her hands wrapped; she's clearly ready to throw a few punches if necessary.
But we don't need this impressive garb to recognize that JLo is a fighter. She's proven it time and time again. When her rom-coms began to flop, she became a star judge on Idol. When news broke of her split with Marc Anthony, she started dating 24-year-old Casper Smart. Even her Oscar wardrobe malfunction proved to offer a substantial amount of free publicity. Whatever obstacles Lopez faces, she always manages to come out on top.
And Lopez admitted the shoot was very symbolic for her. She told the magazine, "I've always felt like a tough girl from the Bronx. But I have a soft core. I can take a lot of punches and still keep going. I've been trained like a boxer to go 15 rounds." And while she's definitely had her fair share of professional highs and lows, she's come to realize that it's all part of the business, saying, "You have amazing moments of recognition and success. But at this point in my life, I try to take it all with a grain of salt."
Nobody puts Jenny in a corner.
Click on the picture above for more photos of Jennifer Lopez.
Source: V Magazine