Jenny McCarthy to Pose for Playboy Again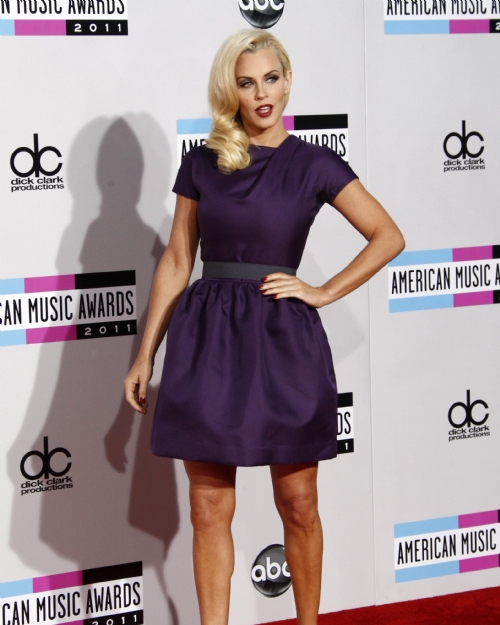 Nearly twenty years after she posed for Playboy, former Playmate and current author/actress Jenny McCarthy will grace the famous lad mag once again. A Playboy rep confirmed to US Weekly that the 39-year-old mother will be appear nude in the double July/August issue, hitting newsstands on June 29.
No matter how you feel about Playboy or the idea of someone's mother posing for the magazine just weeks before their 40th birthday, there's still one thing that desperately needs to be brought up: If Jenny McCarthy is revisiting 1993 in 2012 does that mean Singled Out will come back too?! Okay, that's probably not what most people will be talking about, but let's anyway, shall we?
The MTV dating show that helped propel McCarthy to being the sexy/funny superstar of the '90s that she was so richly deserves a revival, too. (With Chris Hardwick, as well, please!) Nickelodeon saw a huge response to their '90s programming, by bringing back nostalgic favorites like Hey, Dude and Doug, why hasn't MTV cashed in on this? If McCarthy and Hardwick aren't game to play Singled Out again, at the very least show some reruns!
In fact, here's some other things from 1993 that, like a nude McCarthy, most of us wouldn't mind seeing again:
– Saved By The Bell ended in 1993. Twenty year high school reunion special next year, anyone?
– Super Mario Brothers: All Stars was released on Super NES. How about an updated Avengers-like video game for them? I call Yoshi!
– If ABBA can get their own movie and musical, why can't fellow Swedes and 1993 phenoms Ace of Base? I Saw the Sign and it was on Broadway.
More:
Jenny McCarthy Scores New VH1 Show
Hugh Hefner Playboy Biopic Rescued: Budget Mostly Robes
Easter Egg Hunt at the Playboy Mansion –– PHOTOS
[Photo credit: David Edwards- © 2011- DailyCeleb.com- All Rights Reserved]