Jerry Lawler, WWE Commentator, Suffers a Heart Attack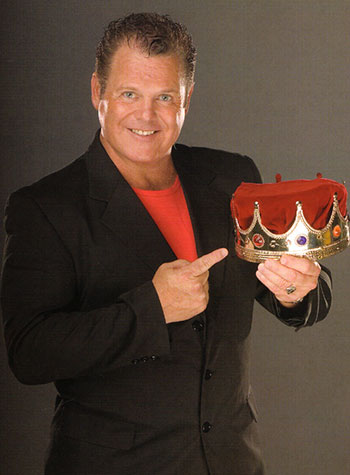 Update: WWE released the following statement to us Tuesday at 12:40 PM: "As of this morning, Jerry 'The King' Lawler is in a cardiac care unit and all his vital signs are stable. WWE will provide additional information as it becomes available. We continue to wish Jerry all the best for a full recovery."
Monday night was a frightening night for WWE fans as they learned that infamous wrestler and World Wrestling Entertainment commentator Jerry "The King" Lawler suffered a heart attack. Lawler, who is 62 years old, reportedly collapsed at the announcers' table during a live, televised show in Montreal, WWE.com reports. He was rushed to the hospital.
"Jerry 'The King' Lawler suffered a heart attack while commentating during last night's broadcast of Monday Night Raw in Montreal," WWE confirmed in statement to Hollywood.com. "We are hopeful Jerry makes a full recovery and returns to WWE in the near future. Our thoughts are with Jerry and his family."
Lawler's co-host Michael Cole addressed fans Monday night letting them know that the situation was "serious," but that Lawler was breathing on his own. "This is not part of tonight's entertainment," Cole said, according to ABC News. "This is a real-life situation."
While Lawler is semi-retired — he was a huge star in the seventies and eighties — he does sometimes get in the ring to test his skills. According to ABC News, Lawler reportedly briefly joined in on a match earlier in the evening before returning to his commentating duties.
Follow Lindsey on Twitter @LDiMat.
[Photo Credit: John Giamundo/WWE]
More:
President Obama Explains Nicki Minja's Rap Lyrics to the Masses
Googling Emma Watson Nude Pics May Give You a Virus