Jessica Alba Is Writing Her First Book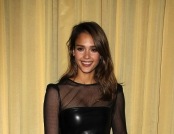 Jessica Alba is adding "author" to her resume. The actress and mom of Honor, 3, and Haven, 7 months, is penning a book titled The Honest Life on how to lead a more healthy and natural lifestyle.
If you aren't quite ready to purge your home of everything that isn't organic, don't worry. "I'm not extreme," says Alba. "This book is for people who are in the middle but want to create a healthier life, like me."
Alba just launched her first business, The Honest Company, with business partner/co-author Christopher Gavigan — and the book will discuss how she balances work with motherhood. It will also include tips on detoxifying your home, DIY family projects, and favorite family recipes.
The book is due to hit shelves in early 2013 — and Alba says she wants it to be "easy and fun."
"Everything in this book will be something meaningful that I've incorporated into our lives," the actress adds. "I wanted some kind of handbook with all the information I was consuming so I could apply it in a practical way."
Source: People