Jessica Simpson Flaunts Weight Loss — PICS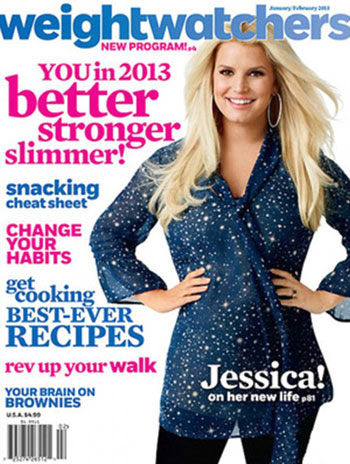 What do we know about Jessica Simpson? Well, we know she is pregnant yet again — just seven months after giving birth to her daughter. We know she loves to dress said daughter in questionable outfits. And we know she is a big fan of what the kids call T.M.I. (a.k.a. too much information).
Now thanks to her recent cover story with Weight Watchers magazine, we know the secret to the singer's 50-pound weight loss after the birth of her daughter, Maxwell Drew.
While posing on the January/February 2013 cover, the Fashion Star judge showed off a skinnier physique thanks in part to the weight loss company. Inside the pages, the 32-year-old talked about how she was able to go back to work while still keeping the weight off.
"I'm crazy about smoothies," she says. "So I bring chopped fruit chopped up and ready to go. That way, I can sip the same smoothie all morning long between takes. If it thins out, I put it back in the blender with crushed ice for a few minutes."
Despite being a spokesperson for Weight Watchers, the company revealed Simpson "will not be following the program during the pregnancy while her weight and well-being are monitored by her obstetrician."
[Photo Credit: Weight Watchers]
More:
Jessica Simpson Flashes Enormous Boobs on Twitter — Again

20 Hottest Bikini Bodies of 2012: Kim Kardashian and More!