Home
Celebrities
Jodie Foster Clarifies Globes Speech: 'I Could Never Stop Acting'
Jodie Foster Clarifies Globes Speech: 'I Could Never Stop Acting'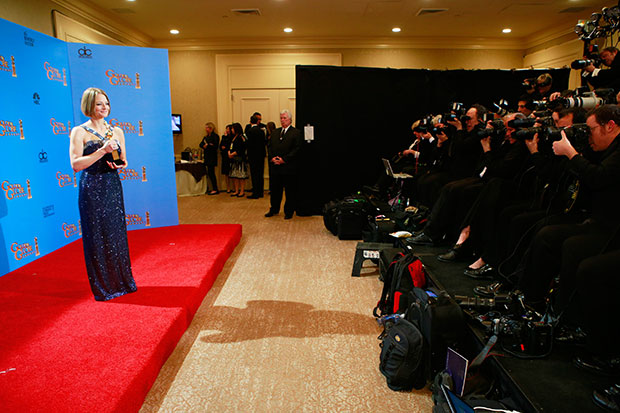 At Sunday night's 70th Annual Golden Globe Awards, actress/director Jodie Foster was bestowed with the Cecil B. DeMille Award, a lifetime achievement award presented to her by friend and fellow thespian, Robert Downey Jr. While most stars may humbly accept an honorary award with a few kind words and thank yous, Foster took the road less traveled, delivering a daring, impassioned speech that celebrated the arts, professed love to her family and friends, and quietly damned the people obsessed with digging into her personal life. Like that, Foster stole the show, completely justifying why she was receiving the award in the first place.
While presented with vigor, Foster also kept her comments ambiguous, leaving many audience members scratching their heads. Was the star declaring that she was done with Hollywood and her life in the spotlight? Not quite, as Foster later clarified for journalists backstage at the Globes. "No, I am not retiring," Foster told The Hollywood Reporter. "I could never stop acting. You'd have to drag me with wild horses." The actress went on to say that her work is evolving and she's anxious to direct again. "I'm actually more into it than I've been."
Foster's backstage comments clarified a bit from her speech in which she described the murky nature of her future in the movie business, and which fans interpreted as a retirement proclamation:
"This feels like the end of one era and the beginning of something else. Scary and exicting. And know what? Well, I will never be up on the stage again, or any stage for that matter. Change, you gotta love it. I will continue to tell stories to move people by being moved, the greatest job in the world. It's just that from now on, I may be holding a different talking stick, and maybe it won't be as sparkly. Maybe it won't open on 3,000 screens. Maybe it will be so quiet and delicate, only dogs can hear it whistle. But it will be my writing on the wall."
One look at Foster's upcoming slate and it's clear the Renaissance Woman isn't slowing down. Next up is director Neil Blomkamp's District 9 follow-up, Elysium. When Hollywood.com spoke to Foster about the socially-inclined sci-fi film at this past summer's San Diego Comic-Con, the actress was just as pointed and elegant as she was during her Globes speech. "We've polarized our classes more and more," Foster said. "That's happened more in the last 50 years than it's happened in the last 500 years. It's outrageous. It's bringing countries down and we're paying for it. Earth is paying for it." Foster has a lot on her mind and she's not afraid to say it.
In her comments from backstage at the Globes, Foster compared her award to university commencement. With an impressive resume and burning ambition, we're guessing the Cecil B. DeMille-winner will have little problem breaking in to today's job market.
Follow Matt Patches on Twitter @misterpatches
[Photo Credit: Trae Patton/Getty Images]
More:
Jodie Foster Will Be 4th Youngest Winner of Golden Globes' Lifetime Achievement Award
'Argo,' Jodie, Tina, and Amy: The Golden Globes Gave Us a Crazy Night
Comic-Con 2012: Jodie Foster on How 'Elysium' Predicts the Future (And It Doesn't Look Good)

25 Risqué Miley Cyrus Stage Outfits (Celebuzz)