John Green is Basically Mayor of Pittsburgh Now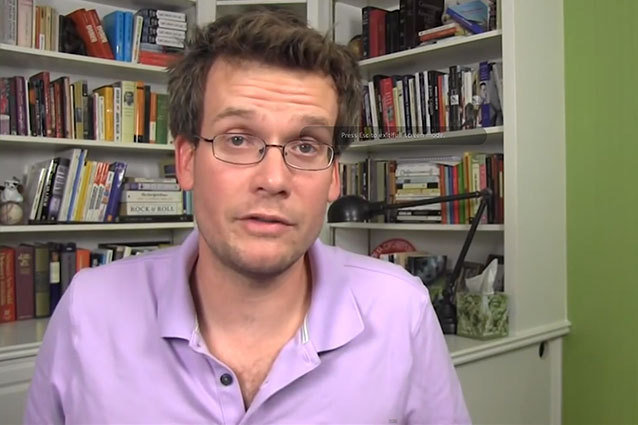 vlogbrothers/YouTube
First The Perks of Being a Wallflower, now The Fault in our Stars. Pittsburgh is becoming the nexus of beloved YA literature-to-film adapatations. After the latter's main shoot in Pennsylvania, it moved to Amsterdam for some location shots and then completely wrapped on Wednesday. But, in its wake, TFIOs (as it's affectionately known) left a city of lovestruck teens (and their parents.) If author John Green ever wants to lead a revolution, he should start in Pittsburgh. He's got the followers.
Though Shailene Woodley and Ansel Elgort are the stars of the teen cancer romance, locals were just as excited to have Green around. The 36-year-old writer is notoriously interactive with his fans, especially on social media. It's not uncommon for a Tumblr post mentioning John Green to be hijacked by him — i.e. reblogged with a witty comment — and his YouTube vlogs with brother Hank cover everything from healthcare to marriage equality to being really excited about Harry Potter and the Deathly Hallows. He brought that enthusiasm with him to the Three Rivers and the people followed.
Green satiated fans who are anxiously awaiting the movie version of their favorite book by tweeting set photos and updates and pulling in cast members like Mike Birbiglia and Elgort into Q&A sessions. And during downtime on the set, he'd almost always be seen with local devotees, signing books and taking selfies. One lucky 13-year-old worked her connections (her journalist mother) to score an interview with him for the Pittsburgh Post-Gazette.  Green even got into the home team spirit and rooted for the Pittsburgh Pirates as they went into their first playoff season in a couple of decades.
Now that filming is complete, maybe Green will consider a long-term stay in the 'Burgh? They think he's magic over there.