John McAfee Sells Life Rights for TV Movie (Complete with Corner Screen Popups!)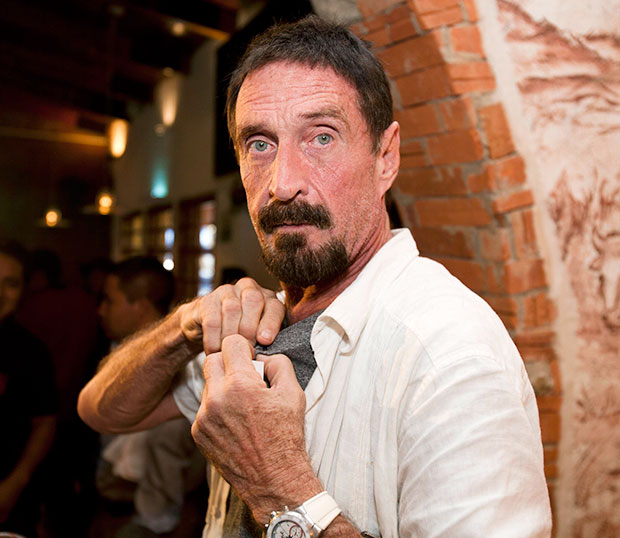 There was a time when the name "McAfee" elicited connotations of annoying computer popups, proclaiming that you are "at risk of viruses" while you're just trying to binge-watch illegal downloads of Luther. But that name is seeking a new brand of fame — the sort of fame strung together on a candy necklace of drug-related arrests, murder allegations, and an unsuccessful plight for asylum in Guatemala. John McAfee, the founder of McAfee Inc., has secured a deal with Canadian production company Impact Future Media to develop a project based on the software mogul's life.
The Hollywood Reporter reveals the title of the tentative TV movie to be Running in the Background: The True Story of John McAfee, and will likely encircle the 67-year-old entrepreneur's computer programming career and slew of recent legal battles. In 2012 alone, Belize resident McAfee has been the target of investigation for drug manufacturing, illegal possession of weapons, and, most recently, the murder of his neighbor and fellow American expatriate Gregory Faull.
After McAfee was named as a person of interest in Faull's murder, McAfee fled to Guatemala in hopes of accruing immunity from the neighboring nation. However, the nation has refused to grant McAfee political asylum; he is presently facing imminent deportation back to Belize, where he will be subject to questioning over the murder of Faull and face the legal ramifications of his leave across the border.
And through all this, plus complaints of chest pains that caused a slight detour as he recuperated in the safety of a Guatemala hospital, McAfee has still managed to allot time toward striking a deal with Impact Future Media's co-founder Brian Fitzgerald, who is overseeing the transformation of the notorious computer programmer's life to the screen. Perhaps McAfee is comforted by the idea of his innocence being manifested in the form of a television movie. Perhaps he thinks that said work of art will prove to humanize him during court battles to come… or maybe he just sees this as the opportunity to make one big, expensive, 90-minute long corner-of-the-screen popup through which his name might live on. That's the dream, ain't it?
[Photo Credit: Moises Castillo/AP Images]
More:
The Yoko Ono "Firework" Cover Never Happened (And Santa's Not Real Either)
Strippers, Snakeskin, and Side Boob: Miley Cyrus' Merry XXX-mas — PICS
The Show Does Go On: PSY Performs In D.C. Despite Controversy

Lea Michele Calls Her Breasts 'My Prizewinners'

Kim Kardashians Best Bikini Moments (PHOTOS)