Johnny Lewis, 'SOA' Star, Dies After Suspected Homicide — REPORT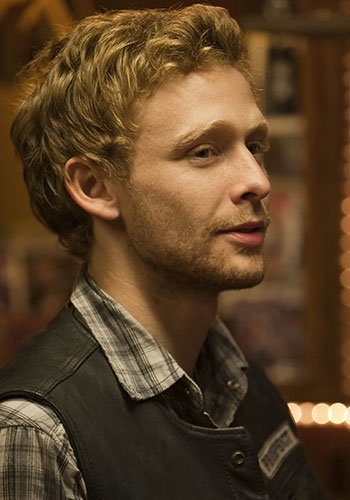 Fans of Sons of Anarchy will remember actor Johnny Lewis as the portrayer of Half-Sack Epps, war veteran and would-be gang member through the first two seasons of the FX program. But beyond the series, Lewis' memory may now have to endure much darker connotations. ABC News reports that the film and television actor, 28, was found dead outside a Los Angeles residence. Additionally, inside the home, the body of a 70-year-old woman was found; She is thought to have been murdered, with Lewis as a suspect.
On Wednesday, law enforcements visited the residence, which belonged to the woman (located in the L.A. neighborhood of Los Feliz), following reports that a woman inside was heard screaming. Following this, Lewis is said to have had a physical confrontation with two individuals, a neighbor and a handyman in the area, on the lawn of the home. Upon arrival at the scene, the police came across Lewis' body in the driveway of the home, apparently having fallen to his death from the roof.
"It appears that some type of altercation occurred inside of the house resulting in the death of the woman," the police tell ABC News. "Then this individual [now confirmed to be Lewis] ran outside, had an altercation with a couple of neighbors, ran back into the house and by the time we got here, he had fallen or had somehow died on the driveway."
Presently, Lewis (who dated Katy Perry in 2006) is a suspect in the murder of the deceased woman. In addition to this, it is not yet confirmed whether Lewis' death was an accident or suicide. It is believed that Lewis might have been renting a room from the woman. Hollywood.com has reached out to Lewis' rep and to the Los Angeles Police Department for comment.
[Photo Credit: FX]
More:
Antonio Sabato Jr. and Cheryl Moana Are Married
Mark McGrath Marries Longtime Love Carin Kingsland
It's a Boy for Sarah Michelle Gellar and Freddie Prinze, Jr.
From Our Partners:

Russell Brand Blames Katy Perry Divorce on Incompatibility
(Celebuzz)

(Celebuzz)