And Now A Brief Word From Your Sponsor: Underwear Companies Offer Their Drawers to Jon Hamm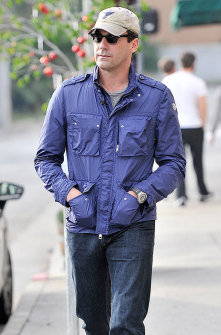 Jon Hamm may not be happy about the media and general public's fascination with his endowment, but two underwear companies are stepping up to help him out during this difficult time. Both Jockey and Fruit of the Loom have offered their products to the Mad Men star, who started an Internet frenzy when it was reported that his now-famous bulge and his penchant for going commando has become a distraction on the set of the beloved AMC drama. 
Underoo outfitter Jockey has offered Hamm — who vocalized his displeasure with the obsession over his privates in a recent interview with Rolling Stone ("They're called 'privates' for a reason," he noted) — with as many boxers or briefs (or both) as his heart desires. "Jockey would like to offer our support for Jon Hamm in the form of a lifetime supply of Jockey underwear," the company said in a statement released to Hollywood.com. Jockey noted that they have not reached out directly to Hamm or his reps regarding their offer. They're just putting it out there, so to speak. 
RELATED: Jon Hamm is Handling His Enormous Penis All Wrong
According to TMZ, Fruit of the Loom has since upped the underwear ante by relaying this message to the actor: "We want people to be themselves. And if going Commando makes you happy, we say go for it. But in case you change your mind, we got you covered." Of course, with statements in the Rolling Stone cover story like, "I'm wearing pants, for f**k's sake. Lay off," we're guessing Hamm won't be as amused by the gesture. 
Still, whether or not Hamm takes them up on their offer, the eagerly anticipated fifth season of Mad Men kicks off on Sunday, April 7, and from the looks of last year's season finale, Don Draper won't be keeping it in his pants much longer on screen either. 
RELATED: The Internet is Obsessed with Jon Hamm's Penis
[Photo credit: Fern/Splash News]
---
You Might Also Like:


15 Oscar-Winning Nude Scenes


10 Insane 'Star Wars' Moments You Didn't Notice