Jonah Hill Slams CNN Anchor in Bizarre Twitter Catfight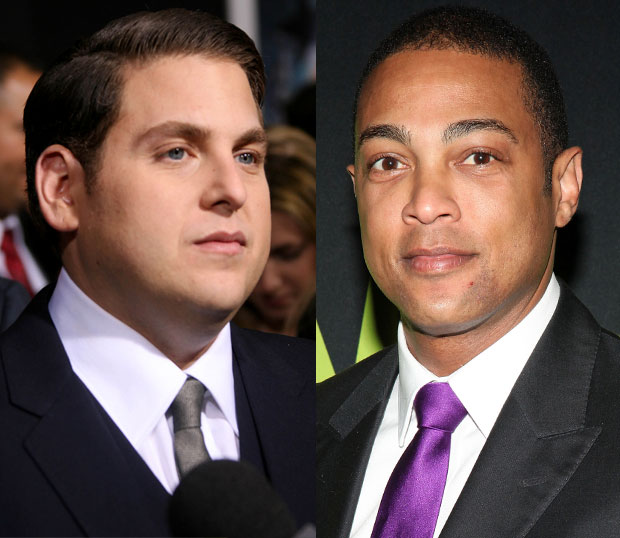 Horror stories abound of fans walking up to celebrities only to be brushed aside. But when it happens to fellow famous folk, they apparently don't take it lying down. 
Case in point? CNN anchor
Don Lemon
launched an atomic Twitter-fueled hate rocket at 
Jonah Hill
yesterday after the 
21 Jump Street
actor apparently snubbed him. 
The drama began on Thursday, when Lemon dissed Hill via Twitter: "Said hi to Jonah Hill in hotel. Think he thought I was bellman. Didn't know his name till bellman told me. A lesson to always be kind."
Hill, of course, was not having it. He fired back: "I said hi, what do you want me to do move in with you? I was in a hurry. Didn't realize you were a 12 year old girl." 
The Superbad star later added: "I walked out of the restroom and found you waiting for me. Shook hands, said hi and was on my way. Sorry if you found that rude" 
The following day, CNN took a break from post-election coverage and talk of the Petraeus resignation to discuss another international political crisis — the Hill and Lemon feud.  
The anchor tried to explain himself but instead, kept adding fuel to the fire. "Jonah Hill doesn't owe me anything," he said. "He may have been having a bad day, but Jonah Hill treated me like the help."
He went on to admit that Hill did shake his hand, but it was a "wet handshake," adding: "Normally it doesn't bother me, but I was done, because I was taught by mother to always be kind to people."
Besides being highly entertaining, the whole ridiculous catfight begs the question: Are celebrities even supposed to be nice? Maybe we're just expecting way too much from them.
Yes, they should be grateful that they have fans (whether those fans happen to be on national TV or work at the local Walgreens). But do you stop to chat with every stranger you come across?
Watch the clip below for some more of the craziness. 
[Photos: Wenn] 
More:
Jennifer Lawrence Denies Kristen Stewart Feud
The Feud Continues: 'Glee"s Matthew Morrison Responds to Jonah Hill's Threats
Javier Bardem on His Quirky 'Skyfall' Villain: 'That's Me — Because I'm Insane Sometimes'
From Our Partners:

(Moviefone)