Home
Celebrities
Joseph Gordon-Levitt and Selena Gomez Want You to 'Vote 4 Stuff' This...
Joseph Gordon-Levitt and Selena Gomez Want You to 'Vote 4 Stuff' This November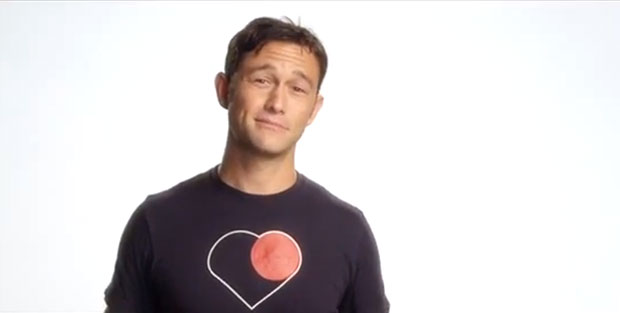 Election season is upon us, and you know what that means — yep, that means it's time to vote. It also means it's time for celebrities to make Internet videos encouraging you to vote. 
Last week saw the debut of expletive-laden anti-Romney "Wake the F—k Up" video featuring Samuel L. Jackson, and today the decidedly less partisan "Vote 4 Stuff" campaign video was unleashed online. (Jonah Hill  tweeted it, so young people will definitely see it.) The video features a slew of stars ranging from comedian Sarah Silverman, to acting powerhouse Leonado DiCaprio, to the original big screen Spider-Man Tobey Maguire.
Instead of isolating half(ish) of the entertainment world by choosing a side in the upcoming election, the Vote 4 Stuff team cleverly avoids mention of any politician's name or political party at all. Rather than picking a side, the stars simply want you to vote for "stuff." You can vote for anything at all, they say. Anything.
Here are just a few highlights from the video of what some celebs would vote for:
"Dogs would pick up my poop with a plastic bag. See how they like it." — Jonah Hill
"Vote to keep tigers out of schools!" — Zac Efron
"I vote yes to anything Zac Efron says." — Selena Gomez
"End. Dubstep. Now." — Joseph Gordon Levitt (Side note: I vote yes to anything JGL says, but why you hate on dubstep, JGL? Why?!)
"North Carolina and South Carolina would have to come up with their own original unique names. I think that should apply to the Dakotas as well." — Edward Norton
Some things I would love to vote for: a Magic Mike sequel, chocolate, JGL liking dubstep, and Seth MacFarlane to surpass my already high expectations and do a fantastic job hosting the Oscars.
Now, obviously you can't actually vote for these things (bummer). But you can vote on real, equally important things, like jobs, marriage equality, climate change, foreign policy, women's reproductive rights, immigration, worker's rights, taxes, teachers' wages, better education, etc. What would you vote for? The Vote 4 Stuff campaign is asking for 30-second videos about the stuff that is important to you. Your tweets, pics, and videos will be incorporated into the Vote 4 Stuff campaign later this month.
Here's the video. Enjoy, laugh, vote. 
Follow Sydney on Twitter @SydneyBucksbaum
[Photo Credit: Vote 4 Stuff]
More:
Samuel L. Jackson Says: 'Wake the F–k Up!'
Jason Aldean's Cheatin' Ways: Wait, This Isn't a Country Song?