Will 2014 Be the Year of Julianne Moore?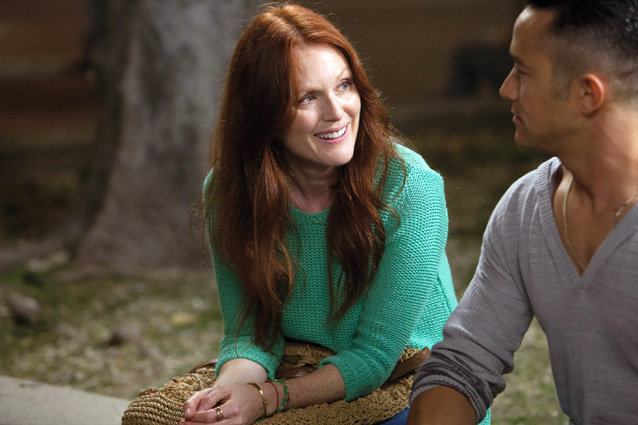 Relativity Media via Everett Collection
In 2013, Julianne Moore began a plot of world domination so quiet that you might not have noticed. The four-time Oscar nominee delivered some amazing performances in Joseph Gordon-Levitt's Don Jon, the Carrie remake, the indie film What Maisie Knew, and another excellent independent feature The English Teacher, where she played a high school teacher having an affair with a former student. She was brilliant, and we sort of wish more people would address that!
This will be another big year for the actress with The Hunger Games: Mockingjay – Part 1, where we'll see her take on the pivotal role of President Alma Coin. But before that, she takes the lead in Maps to the Stars, a film that also stars Robert Pattinson, John Cusack, and Mia Wasikowska. David Cronenberg is directing, and the fact that he's finally teaming up with this brilliant actress is enough reason to get excited (this is the guy who brought us The Fly, A History of Violence, and the recent gem Cosmopolis). Described as "a vicious look at a twisted Hollywood dynasty", Maps will also work as a critique of celebrity and pop culture in Western society. Yes, please.
This month we get to see her go thriller with Liam Neeson and Lupita Nyong'o in Non-Stop., in theaters now.
While the plot to this one seems a little less compelling than some of her other upcoming projects, we have already declared this the year of Julianne Moore and, therefore, are excited for every single one of her movies. And Moore is excited as well. She recently gave an interview to The Telegraph and talked about Jennifer Lawrence, her life as a "shockingly domestic" mother of two, and the fact that she is living a wonderfully priveleged life — and she's grateful for it. In general, she just came off like the amazing goddess, movie star that we believe her to be. So it was good to have that confirmed.
#TeamMoore
Follow @Hollywood_com Follow @shannonmhouston