Just Let Hall and Oates in the Rock and Roll Hall of Fame Already, Dammit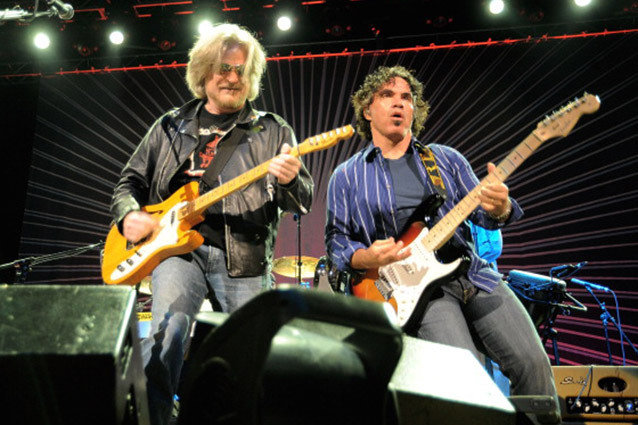 Dana Nalbandian/Getty
The list of nominees for the upcoming class of inductees at the Rock and Roll Hall of Fame were announced and I was quite thrilled to see Daryl Hall and John Oates on that list of people.
I remember getting my first Hall and Oates tape in the mid- '80s. It was their greatest hits and their videos were on constant rotation on MTV: "Man Eater," "Adult Education," "Private Eyes," "One on One" (my own personal favorite – I always loved Hall's voice at the end of the song) and with each video, it seems like Hall's hair just got bigger and bigger. Then came my ultimate Hall and Oates experience: I got Big Bam Boom and I wore that tape out. From the opening part of "Dance On Your Knees" that sequed into "Out of Touch" to the end with "Possession Obsession," I could probably play that album in my head if need be. I even saw them in Madison Square Garden. Floor seats, baby.
The thing about the Rock Hall of Fame is that it is ridiculously subjective and political as to who gets in. You thought that sports shrines were argumentative enough, especially now with the whole performance-enhancing-drug era in baseball cloudiing matters even more. That's nothing compared to music. People can love what I listen to or shut it off in 30 seconds and declare it garbage. They can use criteria like Platinum Albums, awards, etc, but it's still subject to people's whims. At least with baseball, there's solid statistics. Not so with music. But still, hear my argument about Hall and Oates.
Theirs were some of the most soulful music even before that whole run in the '80s where they were probably the most famous duo of all time. But even if you cut out that decade, you still have an impressive array of songs from the '70s, including "Sara Smile," "She's Gone," "Rich Girl" and "Wait For Me." Hall should be inducted just on the sole basis of his own voice and Oates was a great showman too (his mustache rocked in the '70s and '80s). They belong. There's a crowded group of nominees, though, with Peter Gabriel, Nirvana, Kiss and Linda Rondstat also in the "How The Hell Haven't They Gotten In Yet?" crew.
If they don't make it and are passed over…well, I can't go for that.