Justin Bieber and Oprah Winfrey Combine Forces in Biggest Pop Culture Event Ever!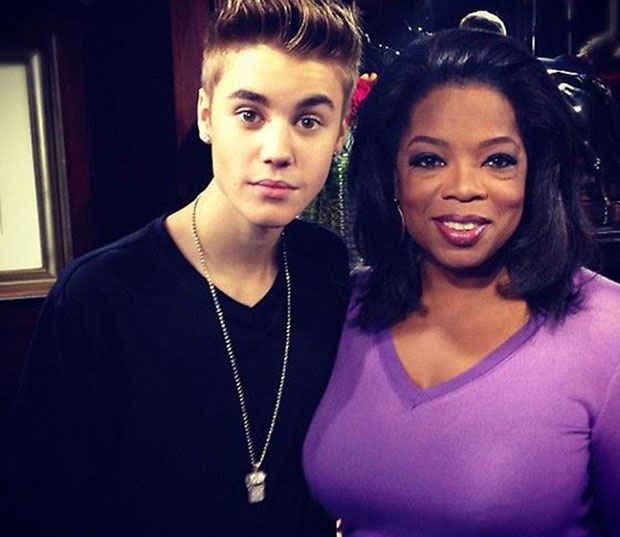 Attention all Beliebers, consumers of pop culture, and all human beings everywhere! Justin Bieber and Oprah Winfrey are combining forces, conspiring to blow up TVs, the internet, and everything pop culture related! The sheer size of their power is so great, we're worried about the aftermath. Will pop culture survive this meeting of the minds? Only time will tell.
To clarify, Bieber is the next musician to appear on Winfrey's OWN show Oprah's Next Chapter. Yeah, wrap your mind around that one.
After interviewing pop stars Rihanna and Fergie, Winfrey will sit down with Bieber for an in-depth look at his life, as well as heading backstage at a Bieber Believe tour date.
"Me and the Bieber just finished our interview," Winfrey posted on Facebook. "Good stuff!"
The interview could not have come at a better time for the pop star: his YouTube channel just hit over 3 billion views, making him the first musician to reach that milestone.
Catch the episode – and fear for pop culture's future – on Nov. 25.
Follow Sydney on Twitter @SydneyBucksbaum
[Photo Credit: Facebook]
More:
Andy Cohen and Jill Zarin at War Over "Secret Recording"?
So Ann Coulter Made You Angry: Why Ranting About It Doesn't Help
Colbie Caillat Spreads Christmas Cheer, Talks Rap Ambitions
From Our Partners:

Jon Hamm Goes Shirtless With Bikini-Clad Jessica Paré
(Celebuzz)

Kardashians Share Scary-Cute Childhood Halloween Pics
(Celebuzz)