Justin Bieber and Selena Gomez Become One of Those Annoying On-Again, Off-Again Couples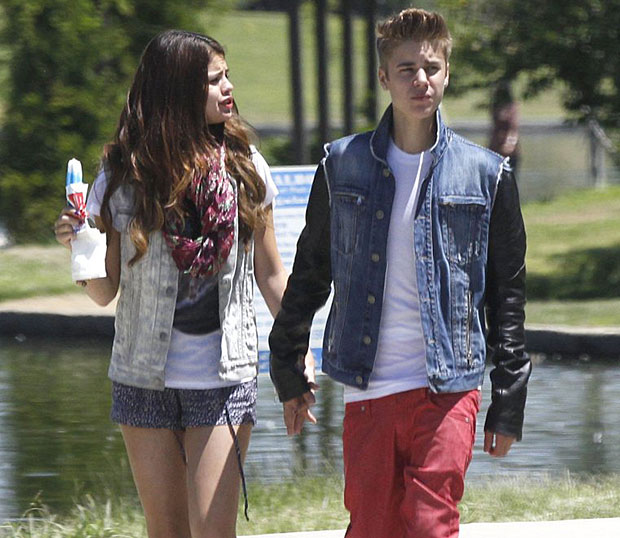 Justin and Selena, I just can't keep track of you two crazy kids. It's like, in homeroom you were in L-O-V-E, and then by lunch you were yellin' and screamin' and storming out of Yamato restaurant, but by fifth period you were snuggling in health class and making plans to go to Benihanna. Are you guys like, together? Or are you broken up? This wishy-washy bulls**t is confusing.
Justin and Selena, is this how things are going to be? While I like to think that your recent restaurant visits and group dates are just the normal petering out of a relationship (those things are hard to kill, man), a part of me wonders if we instead have another On-Again, Off-Again Relationship Monster on our hands. Of all the monsters, those are the worst kind of monsters. They are way more annoying than the Two-Headed Celebrity Couple Monster (Bennifer Part 2 isn't exactly what I'd call threatening) and far more unpredictable than the Spurned Ex Monster (has Taylor Swift had a new idea in like, ever?). And, like all monsters, this is one best to be avoided.
But, Justin and Selena, if this is what you've decided to become, at least do it right. Learn from the On-Again, Off-Agains who have come before you, and discover the least annoying way to tackle this, the most frustrating of relationship statuses.
End up On-Again: If you're going to drag all of us through your mess for any significant period of time, you better end things on a high. Ask Ross and Rachel, they'll tell you. Or Justin Timberlake and Jessica Biel. If your disastrous relationship ends in anything besides a life-long commitment, everyone will hate you.
Whatever You Do, Don't Have a Baby: Now, you two whippersnappers are far too young to be considering babies anyway, but I suggest you keep it that way. Look at what having children did to Kourtney Kardashian and Scott Disick — it took a couple who probably would have broken up (for good) a long time ago, and prolonged their agonizing relationship for years and years. Because now, honorable parents that they are, they're staying together "for the kids."
Limit Your Intoxicated Interactions: I'm not implying that you two drink alcohol, young as you are, but if you did I'd recommend you spend those drunken nights alone. Anyone who has watched Ronnie and Sammi self-destruct on Jersey Shore knows that drunkytimes with your ex can only end in tears.
Set Boundaries: When your relationship enters a gray area, you've gotta be super duper, one hundred percent clear about what your goals are. Without going all Dr. Phil on you, there is a difference between "being on a break" and "taking some time." Celeste and Jesse Forever is one gigantic bad example of what can happen when you fail to properly define the terms of your breakup. And, of course, so are Ross and Rachel.
Follow Abbey Stone on Twitter @abbeystone
[Photo Credit: FameFlynet]
More:
Selena Gomez Dumps Justin Bieber, Earth Spins Off Axis — Reports
Team Justin or Selena. Whose Side Are You on?
Justin Bieber Can Vomit and Sing Simultaneously — VIDEO

Jennifer Lawrence Bikinis in Hawaii (PICS)

Best and Worst of the Thanksgiving Parade