10 Questions for the Guy Who Attacked Justin Bieber in Dubai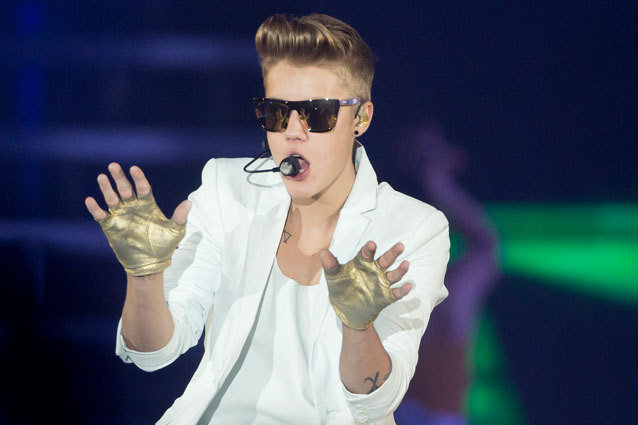 Justin Bieber's magnetism is becoming a problem. Not only does he attract legions of screaming girls everywhere he goes, whether he's jaunting off to hotels, grabbing some fro-yo, or living and breathing in some unenclosed space, now he attracts concert goers who leap onstage and attempt to give him a sneak attack bear hug. One man at Bieber's concert in Dubai on May 5 took to the stage to clobber Bieber (we're not sure if it was with love or anger, the video is simply too blurry) while the world's foremost inspiration for binder doodles was singing "Believe" at the piano.
The man was restrained quickly and Bieber wasn't hurt, continuing on with his song and returning to the stage for an encore of "Beautiful" and "Baby" shortly thereafter. And the incident apparently didn't shake the Biebs up all that much, he quickly hopped on Twitter after the show to announce, "Dubai. Nothing stops the show. 2 more to go. #BELIEVEtour." According to The National, Bieber is fine and will not be taking any action against the excitable fan. Bieber's grand piano, however, took the brunt of the violence when it toppled while security guards grabbed the attacker. And while everyone's okay, we can't help but wonder, just what was going on in that fan's head? We've got a few questions for the overzealous chap.
1. Were you trying to hug Bieber or keep him from finishing his pretty little song?
2. If you were trying to hug him, why didn't you go for the gold and try to get a front hug instead of the sneak attack?
3. If you were, in fact, attacking him, what about him is so anger-inducing?
4. Are you in love with Selena Gomez? Perhaps you erupted in a fit of jealous anger?
5. Are you jealous of his innumerable merchandising opportunities? (Perhaps you want Chaunukah and Christmas wrapping paper with your face on it too.)
6. Are you from the California Hamster Association (which is a real organization with a bone to pick with Bieber)? 
7. Had you not heard the song before and perhaps thought Bieber needed the Heimlich Manuever?
8. Were you upset that you spent all your money on a front row ticket and he hadn't yet played your favorite song?
9. If so, are you unaware that pop stars generally do encores and that "Baby" was on its way?
10. Are you a wizard? Because how else did you zip up onto that stage before Bieber's guards, specifically trained to keep spontaneous hugs at bay, could catch you?
Watch the full video below. Do you think the fan was just angling for a little affection from Justin?
Follow Kelsea on Twitter @KelseaStahler
More:
Gross: More Proof That Justin Bieber and Selena Gomez Are Together
Justin Bieber Angers the Hamster Association
Ew, Justin Bieber, Put Your Sexy Fan Art Away 
---
From Our Partners:


What Happened to 33 Child Stars (Celebuzz)


40 Most Revealing See-Through Red Carpet Looks (Vh1)