Justin Bieber Leaps from Car to 'Beat the F**k' Out of Paparazzi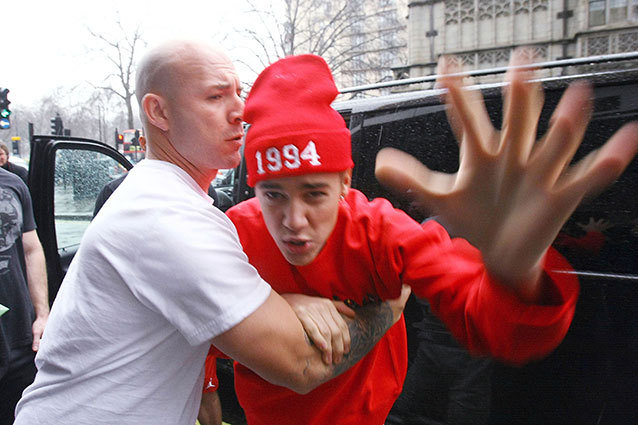 We all had that friend who, much to our chagrin, would always bring his younger brother around when you would go out together. And as many times as you'd try and suggest that Jeremy should hang back this time around, as many methods of deception you'd use ("Sorry man, I only have room for one more in my car…"), you'd always be stuck embarrassedly babysitting the petulant little punk when he'd get way too trashed and pick fights with the football team. Justin Bieber, you are the world's Jeremy.
RELATED: Justin Bieber Won't Shut Up About 'Worst Birthday'
In the latest excerpt from the Bieber Meltdown Log, the singer/songwriter has taken to threatening pushy paparazzi. The below video from TMZ showcases Bieber's posse trying to avoid an admittedly pesky photographer, shuffling their 19-year-old superstar into the safety of his vehicle. But when the paparazzo in question gets a little testy, Bieber bursts from the car to dish out a string of childlike threats (knowing full well that he has the buffer of his bodyguard at his disposal):
This is hardly the first face-palmer that Bieber has mustered up recently. His feud with the Black Keys had many of us siding with the Buckeye duo.  Complaints about his "worst birthday" earned the Internet's mockery. And when he fell unconscious in the middle of a concert on Thursday… well, okay, we actually kind of feel bad making fun of that one.
RELATED: Justin Bieber Collapses Onstage During London Concert
But just like little Jeremy, Bieber doesn't really seem to be learning any lessons. The teeth-baring rascal took to Twitter to lament the misfortune that has befallen him in recent days. He's just an unfortunate pawn in this big, vicious game:
Ahhhhh! Rough morning. Trying to feel better for this show tonight but let the paps get the best of me…

— Justin Bieber (@justinbieber) March 8, 2013
Sometimes when people r shoving cameras in your face all day and yelling the worst thing possible at u…well I'm human. Rough week

— Justin Bieber (@justinbieber) March 8, 2013
Not gonna let them get the best of me again. Gonna get focused on this show tonight. Adrenaline is high now. Gonna put it on the stage
— Justin Bieber (@justinbieber) March 8, 2013
And a poignant…
Only way someone can break u is if u let them.

— Justin Bieber (@justinbieber) March 8, 2013
Keep it up, Bieber, and someday soon, the world won't have enough room in its car for you.
Follow Michael Arbeiter on Twitter @MichaelArbeiter
[Photo Credit: FlameFlynet]
---
From Our Partners:


40 Most Revealing See-Through Red Carpet Looks (Vh1)


15 Stars Share Secrets of their Sex Lives (Celebuzz)