If You Tell ANYONE About Justin Bieber's Gatsby Party, You Have to Pay Him $3 Million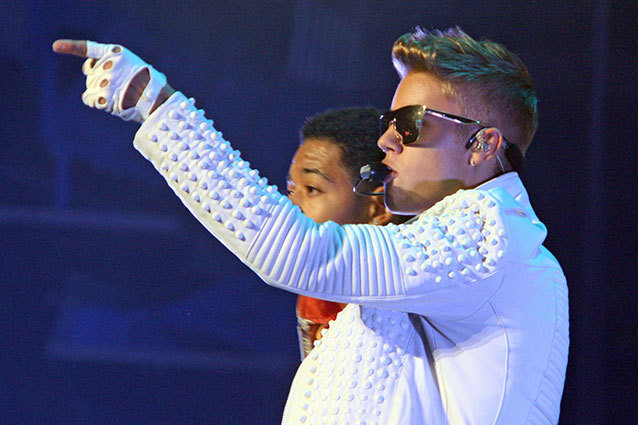 WENN
What do Tyler Durden, Las Vegas commercials, and Justin Bieber have in common? They all know the importance of keeping a secret. And for Bieber, the price of keeping that secret is a small fee of $3 million dollars. According to TMZ, when the pop star threw a massive Gatsby-themed party at his home in California this weekend, he made all of the guests and workers attending sign a confidentiality agreement stating that they would reveal via the press or their social media accounts any details about what went on inside, or else they would have to pony up the $3 million. In true Bieber fashion, though, this wasn't the only reason the party made the news: apparently, whatever shenanigans the singer and his friends got up to were so loud and raucous that Bieber's neighbors called the cops on three separate occasions to complain about the noise. 
Since it's very unlikely that any of Bieber's guests have a few million conveniently lying around — other than Snoop Lion, although he doesn't seem the type to reveal party details to the press — the world will probably never know just what went on inside of his Gatsby bash. But, if we had to guess, we're sure that the Biebs took inspiration from Baz Lurhmann's recent adaptation of the novel, which he's probably never read, and outfitted himself and his posse in pristine tuxes. Bieber would, of course, be Jay Gatsby, as he seems like someone who would want to take after Leonardo DiCaprio in all aspects of life. 
As the party goers danced to the hip hop/jazz mashups that were featured on the film's soundtrack, he would swan through the crowd, pouring champagne and giving tours of his ridiculously large mansion. Girls would fawn over the idea of getting a glimpse of the party's elusive host, and those that managed to get an audience with him would brag about it for years to come. As the party raged on towards the wee hours of the morning, Bieber would feel himself overcome with a feeling of melancholy and would escape to a tall balcony, where he would stand alone and stare into the distance towards Selena Gomez's house, and if he really concentrated, he could just barely make out the blinking green light of her phone charging in the window. 
There he would stand, casting a shadow down onto the party goers below, a solitary figure of both legendary parties and pining heartbreak. Finally, as the sun began to rise, Bieber's guests would go home, and as his friends crashed on various couches throughout his home to sleep off the party, Bieber would make his way down to the pool, where he would decide to take a morning swim, but would be so tired that he would probably just collapse face-first into the water, and float there for a bit before dragging himself off to bed. 
Of course, there's no way of knowing if any of that is actually true, but we do know that were he alive, the idea of Bieber throwing a Gatsby-inspired party would horrify F. Scott Fitzgerald less than the idea that the host likely wouldn't consider him cool enough to attend.