Someone Ground Justin Bieber Before He Has a Superstar-Sized Meltdown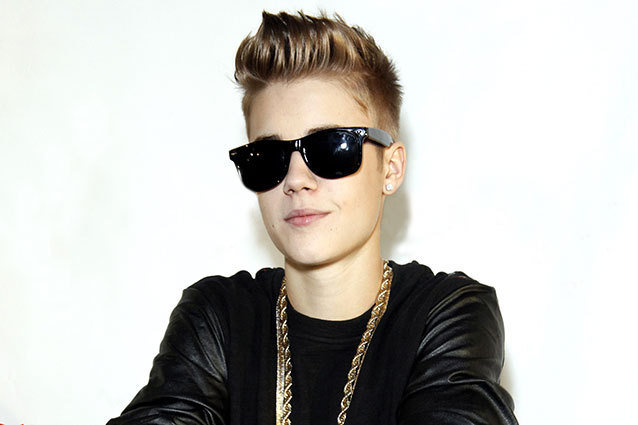 Justin Bieber is 19 years old now, which means he is hardcore. Forget those pre-pubescent fans, Bieber is a serious, grown-up musician now who doesn't give a f**k what anyone says — he can start his concert at 10:30 PM if he wants to, and there's nothing you and your $200 ticket can do about it. 
Well, you can cry about missing your train home and have your parents tweet their disgust — as happened when Bieber hit the stage approximately two hours after his scheduled start time for Monday's concert in London — and then Bieber will have to issue an apology, which is totally the hot s**t rock music golden god thing to do. Regarding the incident, Bieber took to Twitter to first clear up the facts — "last night i was scheduled after 3 opening acts to go on stage at 935 not 830 but because of some technical issues i got on at 10:10..so…" — and then followed up with a half-hearted apology. "i was 40 min late to stage. there is no excuse for that and I apologize for anyone we upset. However it was great show and Im proud of that," he said.  
RELATED: Justin Bieber Won't Shut Up About 'Worst Birthday'
But wait, there's more. Mother of the Biebs, Pattie must not have been satisfied with the above attempt at amends, as Bieber blasted one more apology, "i never have any intent to upset or let anyone down. and Im not okay with things being exaggerated. once again sorry for anyone upset." 
We're getting warmer. 
Bieber has been 19 for exactly five days and in that time he's managed to create quite the PR nightmare for himself — what with the whining and the Jaden Smith underage club controversy and now the concert brouhaha. In his attempt to act like an adult superstar, Bieber has in fact retrograded. His actions reek not of rock star, but of rebellious teenager. It's time Pattie puts her foot down and gives her son the grounding he deserves before Bieber suffers a full blown pop star meltdown. 
RELATED: 19 Reasons Why 19 Will Be Better Than 18 For Justin Bieber
To make it easier, we recommend Ms. Mallette think of Bieber's antics in more teen-friendly lens. Hard to punish your son for coming late to his concert at a sold-out arena? What would you do if he, say, missed his curfew by two hours? Ground him. Here are some other scenarios to file away for future notice.  
Trashes His Hotel Room: The only rock star cliché that's bigger than arriving late to your own concert is completely destroying your hotel room. We're talking empty liquor bottles littering the floor, cocaine residue on the sink, glitter… everywhere, the works. Should Bieber do this, Pattie should pretend he…
Won't Clean Up His Bedroom. Sounds like someone won't be getting dinner (or dessert) until he takes care of that pigsty. 
RELATED: Justin Bieber Remains Silent On 'Cut For Beiber' Trend
Acts Out on TV: Thanks to Jim Morrison's decision to deliberately disobey the Ed Sullivan show's request to change the lyric, "Girl, we couldn't get much higher" to "Girl, we couldn't get much better," ignoring TV's censors has become a right of passage for skyrocketing musicians. It's only a matter of time before Bieber drops the F-bomb on LIVE With Kelly and Michael. And when he does, think of it as…
Being Rude at a Friend's House. And you know what to do when your stoic teen doesn't thank Mr. and Mrs. Jones for inviting him over for dinner? He doesn't get to play with his friends for a week. 
Smashes His Guitar On Stage: Now that he's touring with his acoustic album, there's ample opportunity for Bieber to exchange his dance moves for a little strumming. And when the strumming is done… BAM. Bye bye guitar. And you know what to do when he…
Doesn't Take Care of His Belongings? You take them away. No guitar, no PS3, no Ferrari. This is why we can't have nice things, Justin. 
RELATED: Justin Bieber vs. The Black Keys — The War Begins
Is Seen Doing Drugs: Bieber's already been spotted smoking the green stuff ("allegedly"), so hard drugs can't be far behind. We're surely only steps away from the Biebs being caught with a bag of powder in the front seat of his car or molly in his pocket. And when he does, just think of it as…
Drinking In the Basement. While we've been lead to believe that in some zip codes (we're looking at you, 90210) this is exactly the type of thing teens get in trouble for, no changes necessary, the average teenager is more likely to get caught with a 6-pack than a gram. And when this happens, said teenager isn't allowed to hang out with those bad influences ever again. 
Is Caught With Strippers: With the drugs and rock and roll under his belt, the only thing left for Bieber to experiment with is sex. Cue the strippers and hookers! Should Pattie discover Charlie Sheen on Bieber's speed dial and a mysterious G-string in his backpack, she should think of it as…
Making Out in His Bedroom. We have an open door policy in this house for a reason, young man! This kind of hanky-panky will not be tolerated. All dates must be chaperoned for the next month. Unless Selena Gomez is there, we trust her. 
Follow Abbey on Twitter @AbbeyStone
[Photo Credit: Rex USA]
---
From Our Partners:


40 Most Revealing See-Through Red Carpet Looks (Vh1)


15 Stars Share Secrets of their Sex Lives (Celebuzz)