5 Possible Second Careers For Justin Bieber In Case He Does Retire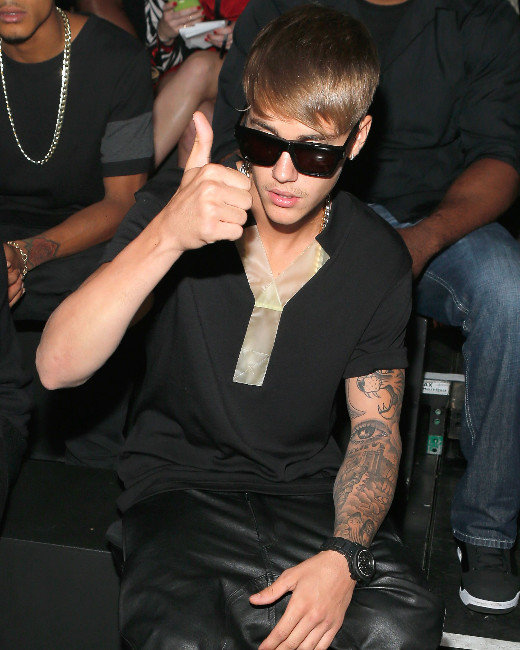 Jemal Countess/Getty
It's been a rough year for Justin Bieber. Between a high-profile breakup, many, many instances of bad PR, and having his pet monkey taken away from him, we don't blame the Biebs for wanting to take some time away from the spotlight. But when he declared that he was planning on retiring from music in an interview with the Los Angeles radio station Power 106, we were still surprised. How could the Beliebers carry on without him? Who would the tabloids and gossip sites write about? Who would provide the inspiration for countless jokes on Twitter and late night talk shows? Who would teach us to embrace the power of swag? 
Luckily for all of us, it seems as if Bieber's comments were made in jest, but it got us thinking about other possible career options for him to pursue if he ever does decide to take a break from being a pop star. After all, he's only 19; he's still got the rest of his life ahead of him. So, we've come up with five possible second careers for Bieber to consider, based on the skills and abilities he already has. 
The World's Foremost Designer of Drop-Crotch Pants
We're sure that Bieber, being the fashion plate that he is, will one day have a clothing line of his very own, and since every designer needs a trademark, we think Bieber should corner the market on drop-crotch pants. They're already a staple of his wardrobe, so he's got plenty of experience styling them, and with his army of Beliebers behind him, they're sure to become a major trend for both men and women. And if he's looking to expand his design empire, he can move on to sunglasses that are specifically designed to be worn indoors, baseball caps that only fit the back of one's head, and of course, Bieber Brand Hair Gel. 
A Lifestyle Guru
Lifestyle brands have become a big trend amongst celebrities lately, but rather than recommend $300 candles or teach people how to live a "one-of-a-kind, carefully curated life," we think Bieber can corner the market on swag coaching. After all, he created the job when he hired his friend Ryan Good to become his personal swagger coach, so it would make perfect sense for Bieber to expand his empire by offering that service to others. With Bieber's swagger coaching, every awkward teenager out there will learn to carry themselves with an overwhelming amount of confidence, will never say never, and discover how to wield the kind of influence over people that they will never have to walk anywhere ever again – they will be weighed down with so much swag that they will need to be carried everywhere. 
The Next Banksy
We already know that Bieber has plenty of experience working with spray paint, so why not capitalize on both his and Banksy's fame and become a famous street artist. Of course, in order to properly inherit Banksy's throne, Bieber will have to stop appearing in public, but we're thinking he can counteract that by making his artistic trademark spray painting his face onto buildings all over the country. Now, anywhere you go, there's a good chance that Bieber will be staring down at you over his sunglasses, ensuring that his swaggy spirit will always remain, even after the man himself becomes a recluse. Of course, the downside of Bieber becoming a world famous artists is that one day, we all will be decorating our homes with paintings of Bieber, so start picking out home decor that will help bring out his eyes. 
Professional Party Host
Ain't no party like a Bieber party, because a Bieber party usually involves several non-disclosure agreements, a few rappers and at least three complaining phone calls to the police. We think he should put all of his party hosting expertise to use and become a professional party host, so that for a small fee (we imagine somewhere in the hundreds of thousands), you can have Bieber make an appearance at all of your get-togethers. He will take inspiration from his party idol, Jay Gatsby, and swan around your party, handing out glasses of champagne and calling people "Old Sport." Of course, you'll never be able to tell anyone about having him there, as even those who hired him will have to sign a non-disclosure agreement, but it's all worth it for a chance to party with the Biebs. 
A Lumberjack
While we have no way of knowing whether or not Bieber has ever seen Dexter, we imagine that he might want to take some inspiration from the show's final episode and move up into the mountains to grow a beard and become a lumberjack. While it will definitely be a disappointment to those Beliebers who want him to stick around, we imagine the real people who would be upset by Bieber taking this path would be Dexter's writers, as Bieber becoming a lumberjack would certainly go over much better than the series finale of Dexter did.