Justin Bieber Pranks the Media, Releases "Beauty and A Beat" Music Video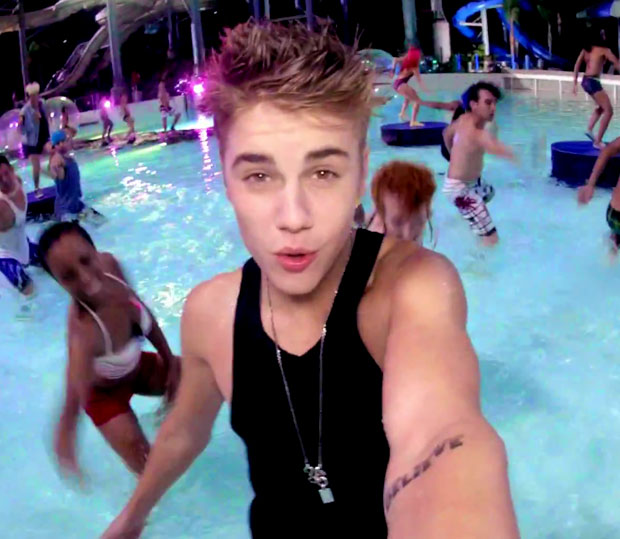 Did you hear all this hullabaloo about Justin Bieber's laptop being stolen? In case you missed it, E! (and just about everyone else) reported on Wednesday that Bieber's computer was stolen during his concert. The outlets quoted Bieber's tweet, "yesterday during the show me and my tour manager josh had some stuff stolen. really sucks. people should respect other's property." Bummer, Biebs.
But ho! 'Tis not the end of this here tale of the stolen electronics! The plot thickened on Thursday when a mysterious Twitterer going by the name of gexwy claimed to be the thief and started threatening to post private videos of Bieber online. The pièce de résistance, gexwy claimed, would happen Friday at noon.
And that brings us to the present. Surprising no one, the big reveal wasn't a sex tape with Selena Gomez (I shudder at the thought) or footage of Bieber imbibing illicit substances. It was — drum roll please — a new music video for his song "Beauty and A Beat" featuring Nicki Minaj. The whole thing was an elaborate prank! Oh, Biebs, you sneaky so-and-so. (Too bad your little Twitter exchange with Nicki sort of ruined the surprise.)
At the strike of noon o'clock, Bieber tweeted, "since i was 14 i have had a lot of things said about me, from dying, to taking hormones, to dying again, to stuff about my family… to saying i had a baby with a woman i never even met. nude pics, drugs, my family, my character…but today…today i get to be in on it…" And then, whazham! "Beauty and A Beat" hit the web.  
Keeping with the theme of his hoax, Bieber's video opens with a title card that reads, "In October of 2012 three hours of personal was stolen from musician Justin Bieber. The following footage was illegally uploaded by an anonymous blogger." We then follow Bieber to an elaborate pool party, complete with synchronized swimmers, glow sticks, and a water slide.
Hope you got your chuckle in, Justin, because you are now officially music's Boy Who Cried Wolf.
Follow Abbey Stone on Twitter @abbeystone
[Photo Credit: Def Jam]
More:
Justin Bieber Can Vomit and Sing Simultaneously — VIDEO
Dear Justin Bieber, Consumer Reports Totally Hates Your Stupid Car
Justin Bieber and Carly Rae Jepsen's Very Unlikely Duet — LISTEN
From Our Partners:
Kate Upton Dating Detroit Tigers' Justin Verlander, Family Memberes Confirm — EXCLUSIVE
(Celebuzz)