Justin Bieber Responds to Allegations of Marijuana Use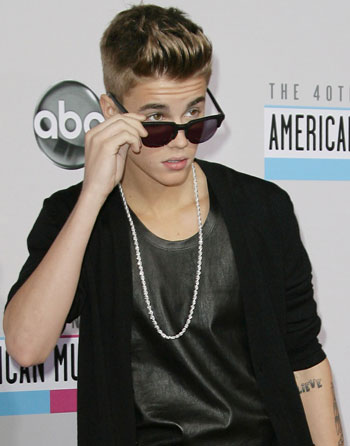 It appears as though Justin Bieber is starting 2013 out with a real bang. Or would that be a bong now? Earlier this week, TMZ posted a photograph of the 18-year-old singer smoking what many are speculating to be marijuana. 
Partying with friends inside a hotel room in Newport Beach, the young star can be seen smiling and laughing, and smoking what appears to be a joint. (The pic was reportedly snapped just one day after a photographer was killed trying to capture pictures of Bieber behind the wheel of his Ferrari.)
RELATED: Paparazzo Killed While Snapping Pics of Biebers Car
While Bieber didn't directly address the possible weed incident or confess to anything illegal on Twitter, he did tell his 32 million followers, "everyday growing and learning. trying to be better. u get knocked down, u get up. i see all of u. i hear all of u. i never want to let any of you down. i love u. and…thank u."
RELATED: Justin Bieber Angers the Philippines and Hamster Association
Currently in Utah for his nationwide tour, he finished his Twitter plea with, "like i said… 2013…new challenges. new doubters…Im ready. We are ready. see u all tomorrow and everyday after that."
[Photo Credit: Adriana M. Barraza/WENN]
You Might Also Like:

20 Hottest Bikini Bodies of 2012: Katy Perry, Miley and More!