Justin Bieber's 'Vanity Fair' Cover Bombs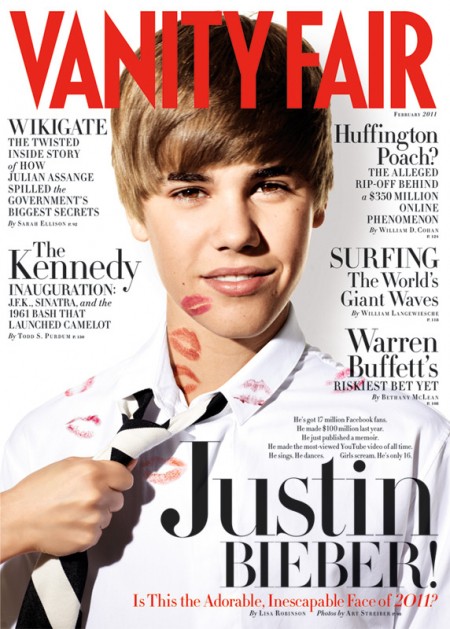 What happens when you put one of the world's biggest teen sensations — a celeb so big he can shut down an entire Liverpool hotel with his mere presence — on the cover of your glossy magazine, cover him in lipstick marks and let a grown woman pull on his tie like he's actually a big boy? Nothing, apparently. Vanity Fair's latest cover features pop prince Justin Bieber looking just a little too sexed up (yet no one seems to be complaining about the fact that he's underage!) and it's about to be the worst-selling issue the magazine has seen in 12 years. I guess all those middle school girls didn't have enough wiggle room in their allowance to pick up a five-dollar magazine whose non-Bieber content profiles folks like Julian Assange and Warren Buffett. It's not exactly the glitter-covered celeb fodder they've come to expect from J-14 and Tiger Beat.
The Bieber cover only sold 246,000 copies this month, which is low for Vanity Fair. Of course, he's not the only big celeb to be the face of a low-selling issue. This cover will join Will Smith's 1999 one and Harrison Ford's 1993 cover, and both of those sold less than Bieber's and that was before magazines were really starting to get hit hard by the internet. So, at least he's got that. Oh, and a billion screaming fans. That'll probably ease the pain.
Source: WWD, CinemaBlend