Justin Bieber Goes Holographic in '#thatPower' Video with will.i.am, Because He's 2013's Tupac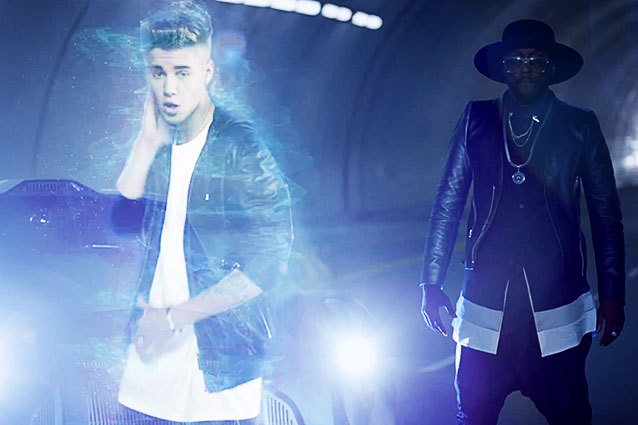 Justin Bieber has had quite the week. First, he visited the Anne Frank Museum in Amsterdam and wrote in the guestbook that he hoped "she would have been a Belieber." Then, he posted sexy fan art showing him cuddling one such Belieber. And now, he's released the new music video for "#thatPower," his thumping electro chant duet with will.i.am. Only Bieber's not actually in the video… not in the flesh anyway: he's a hologram.
Artificiality is the key theme of the "#thatPower" video. Bieber's presentation as a hologram can be seen either as a commentary on technology's role in mediating human identity or because Bieber now thinks he's 2013's Tupac — he's such a legend that he needs to be rendered in holographic form. Except that this legend is very much alive, as evidenced by his incessant repetition of the following lyrics: "I'm alive, I'm alive, I'm alive!" Get the picture?
will.i.am is equally robotic, leading an army of Geordi LaForges through marionette dance moves, his voice scrambled by Auto-Tune. When will (or should we call him Mr. i.am?) leads his troupe through paces in front of a Buddhist temple, is he saying that spirituality has been sidelined by our technological prowess — placed in the background, if you will? Much to meditate on here.
Once you get beyond your nausea that hashtags are now being included in song titles, what do you think of the vid? Is Justin Bieber a prophet? Or is he just an ordinary guy? Will the world ever know?
Follow Christian Blauvelt on Twitter @Ctblauvelt
More:
Ew, Justin Bieber, Put Your Sexy Fan Art Away
Justin Bieber Thinks Anne Frank Was Great, Hopes She'd Have Been a Belieber
---
From Our Partners:


Eva Longoria Bikinis on Spring Break (Celebuzz)


33 Child Stars: Where Are They Now? (Celebuzz)