Justin Timberlake Might Be Releasing New Single With Beyonce and Jay-Z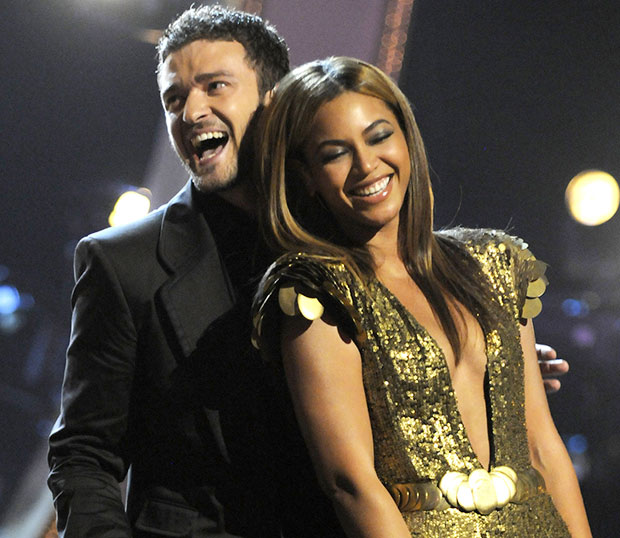 Four of the most amazing words in the English language might actually be a reality: New. Justin. Timberlake. Music. We'll wait for you to start breathing again before we tell you the second half of this unbelievably fantastic news: Beyonce and Jay-Z could possibly be involved.
Before your head explodes, you should know that it is all just speculation at this point. (Besides, even if it is true — which every human with ears should hope for — you should probably wait to actually hear it before your head explodes.)
Here's what we do know: Timberlake tweeted an ominous date late at night on the evening of Wednesday, Jan. 8. "Thursday, January 10th, 2013 at 9:01 am PST…" wrote the singer-turned-actor(-turned back to singer?!).
After the Internet went insane with joy, some realistic-sounding speculation began to swirl. Since the world has collectively been holding its breath for new J-Timberlake tracks for years now, it is very likely the news will be an announcement of new music of some kind.
The Jay/Bey angle comes from Complex, which picked up on a Florida radio station's tweets that a new music collaboration was headed to the airwaves. It was originally reported that it was Timberlake and Jay's long-overdue pairing after scheduling conflicts didn't allow them to work together on J.T.'s FutureSexLoveSounds but Carl Paul, who has been working with Beyonce on her Superbowl show, tweeted that Beyonce was involved too.
Good thing we won't have to wait too long to find out what this puzzling — and exciting — message means. Time to dust off those NSync cutouts from storage…
Follow Jean on Twitter @hijean
[PHOTO CREDIT: Kevin Mazur/WireImage]
More:
'Arrested Development' Premiere Date Confirmed
TCA: 'Arrested Development' Season 4 Scoop
'Justified' Premiere Recap: Hole in the Wall

Megan Fox's 12 Hottest Moments (Moviefone)

Ryan Gosling's 'Airbrushed' Abs: Plus 19 More Reasons We Love the Actor (Moviefone)