Will There Be A Surprise *NSYNC Reunion at the MTV VMAs?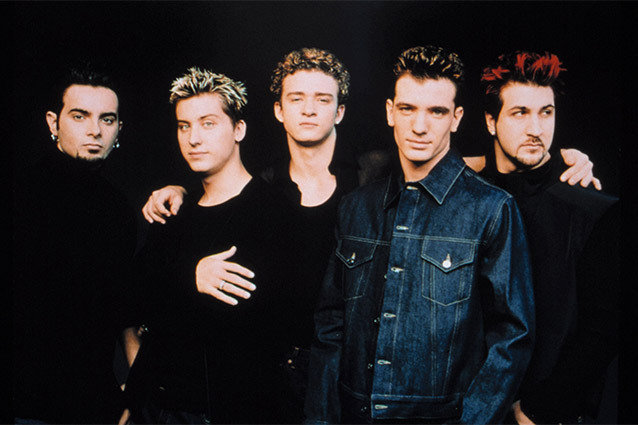 Everett Collection
After 20 minutes of jumping up and down screaming at the NY Post's report that there might be an *NSYNC reunion at this Sunday's MTV Video Music Awards, we pulled ourselves together to actually think about what this means. As Justin Timberlake accepts his Video Vanguard Award, the remaining four *NSYNC members – Joey Fatone, Lance Bass, Chris Kirkpatrick, and JC Chasez – will sing and dance to some of the greatest pieces of pop to ever grace your ears. So we're looking at a two- or three-minute medley of *NSYNC classics as part of the Timberlake retrospective.
Based on past VMA performances, *NSYNC usually ties a neat little bow around a couple of their big singles with intense choreography (and some lip-synching, sorry). Here's what we're hoping for in their surprise performance:
"Bye Bye Bye"
Released in 2000, this single helped the band's No Strings Attached album sell more that two million copies in the first week, shattering the previous record held by the Backstreet Boys (HA!) and is also the band's biggest hit. Also, the moment in the video when Justin jumps down the elevator shaft, looks up at the camera, and smiles at us is, well, just look…


VEVO
"Tearing' Up My Heart"
*NSYNC's first big single, the gateway drug to our boy band addiction. The dancing, the video of them in a vacant warehouse, the single cover with Chris wearing those weird goggles, and the fact that the boys just want us! They're dying without us and they have the smooth choreography to prove it.
"I Want You Back"
JC was the star of the video (along with Justin's pirate earring…), but this video was all about bros being bros and singin' about getting their girl back. The 1998 jam was all we ever wanted and if they don't revisit this tune for the reunion, then well, what's even the point? Remember the original video?
Justin, you've come a long way from that "I Want You Back" video (the mock turtle neck zip tees!), and congratulations on your Video Vanguard Award, but please take one for the team and don't make the rest of the guys sing your solo music (a la Destiny's Child singing "Single Ladies" during the Beyonce Bowl). Think 1999.
Follow Trish on Twitter @yaypineapples and Hollywood.com @Hollywood_com
More:
Justin Timberlake Doesn't Dance Enough in the 'Take Back the Night' Video 
Justin Timberlake May be Sued by Take Back the Night
Is Timberlake's Single Named After An Anti-Sexual Violence Rally? 
---
From Our Partners:


40 Most Revealing See-Through Red Carpet Looks (Vh1)


15 Stars Share Secrets of their Sex Lives (Celebuzz)