Justin Timberlake Brings 'Suit & Tie' in First Live Comeback Appearance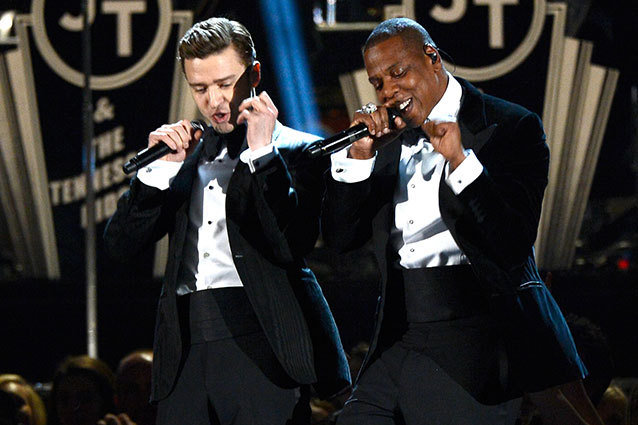 After a hilarious introduction from a pantsuit-ed Beyoncé and admiring fan/co-presenter Ellen DeGeneres, Justin Timberlake made his official return to the music world with a long-awaited Grammy performance.
RELATED: Justin Timberlake Has Contracted the Funk on 2 New Tracks
The singer — who was wearing a sharp tux and bow tie instead of his song's titular "Suit & Tie" — stepped into a sepia-toned, Instagram-filtered world to perform his first single off his highly anticipated upcoming album The 20/20 Experience. Channeling a 1920s club scene, Timberlake was accompanied by his back-up jazz band, the Tennessee Kids, and soon after, his song's collaborator Jay-Z.
RELATED: Justin Timberlake's '20/20′ Album Cover is a Sexy Trip to the Optometrist — PIC
Timberlake, who sounded as slick and soulful as we remember him, had the whole Staples Center on their feet dancing along with him. Eventually changing back into full color (hey, if Taylor Swift can pay homage to Alice in Wonderland, JT can do the same with The Wizard of Oz), Timberlake performed his latest single "Pusher Love Girl."
RELATED: Justin Timberlake Enlists David Fincher for 'Suit & Tie' Video 
While the latter doesn't have pack quite the same pop power punch as "Suit & Tie," Timberlake has continued to make the wait worth our while. The singer received a standing ovation from the crowd, which included his beaming, cheering wife Jessica Biel.
[Photo credit: Kevork Djansezian/Getty Images]
---
From Our Partners:

Celebrity Swimsuits Ever (Celebuzz)

Stars: Where Are They Now? (Celebuzz)