Home
Celebrities
Justin Timberlake's '20/20′ Album Cover is a Sexy Trip to the Optometrist...
Justin Timberlake's '20/20′ Album Cover is a Sexy Trip to the Optometrist — PIC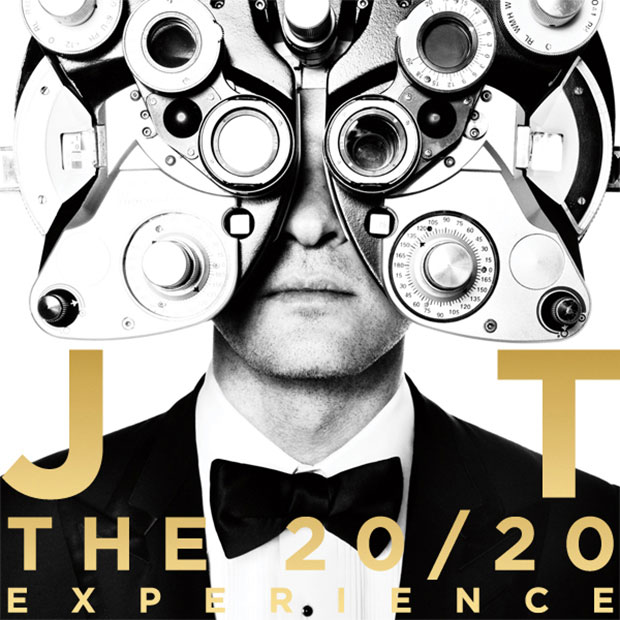 Justin Timberlake hasn't yet released word of a world tour like his fellow musical hot topic Beyonce, but he's got her beat in one very visual endeavor: he just unveiled the cover his new album The 20/20 Experience via Twitter. And he's taking the vision concept pretty seriously.
The piece of ophthalmic equipment, which I've just learned (thanks to the wonder of Google) is called a Phoropter, hides JT's wonderful visage, acting as an even greater tease of the contents inside. Still, the album is missing a little something. It's got the killer bowtie and the drama of an album title as hubristic as The 20/20 Experience (and an experience it had better be, Mr. Timberlake), but it all feels a little disappointing. Justified gave us a view of Timberlake straight on, staring right into our twitterpated, *NSYNC-loving souls. FutureSex/LoveSounds delivered a dangerous(ish) look at Timberlake's more mature, sexier side, placing him in stark relief against a white background. Here, he's getting his eyes checked. But damnit, if he doesn't look dapper doing it! Much like the feeling we got after listening to "Suit and Tie" (which was great, but not nearly as earth-shattering as the first time we heard "SexyBack"), we're left wondering, "Now what?"
RELATED: Beyonce vs. Justin Timberlake: Who's Got Better Music Industry Game?
Luckily, there's a bit more. Timberlake also released the track list from the album, meaning we're now free to wonder whether "Spaceship Coupe" is a new dance track or an existential spacey ballad. Is "That Girl" the followup to "Damn, Girl"? (We really loved that song in spite of ourselves.) The tantalizing titles are as follows:"Pusher Love Girl"
"Suit & Tie"
"Don't Hold the Wall"
"Strawberry Bubblegum"
"Tunnel Vision"
"Spaceship Coupe"
"That Girl"
"Let the Groove Get In"
"Mirrors"
"Blue Ocean Floor"RELATED: Justin Timberlake Enlists David Fincher For 'Suit and Tie' Video
Of course, none of those questions will be answered until JT either lets us all hungrily gobble up the album on its planned release date, March 19, or should he happen to pull a FutureSex/LoveSounds, and embark on a miniature club tour again, playing his new songs for small gatherings of rabid fans who've never heard the tracks before. Either way is fine, just do the damn thing, Justin.
Follow Kelsea on Twitter @KelseaStahler
[Photo Credit: RCA]
---
You Might Also Like:

Who Wore This Crazy Hat?

Stars Who Changed Their Look