Justin Timberlake's Revamped Myspace: Our Wishlist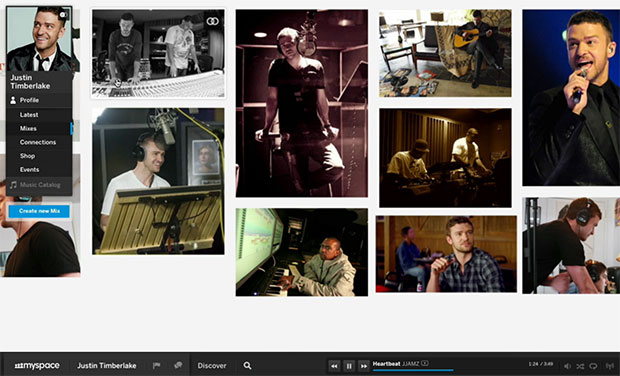 We've all been (im)patiently waiting for word on pop star/movie phenom Justin Timberlake's next project… whether it will be a new album (FINALLY!), a new movie (now that Trouble With The Curve is out in theaters), or another one of his many hilarious guest stints on SNL. And today, JT took to his Twitter account to unveil the news: his latest brainchild is none other than…
Myspace 2.0? You read that right. Last fall, Timberlake became one of Myspace's investors, and today he posted a two minute video, hashtagged #NEWMYSPACE, on how the rebooted social media site will look.
It looks nothing like the Myspace we were once accustomed to, in the beginnings of the social media era. Since Facebook took center stage, Myspace became a place for relatively unknown bands and musicians to showcase their work and get their names out. However, this revamped Myspace looks to be a hybrid of Facebook, Twitter, Instagram, Pinterest, and any other social media network you use on a day-to-day basis.
Once you log in with either Facebook or Twitter (streamlining your social media profiles), you can post photos and playlists, connect with friends and artists alike, get up-to-date news and information on what's trending now and share music with drag-and-drop actions. You even have the chance to be profiled as a top fan on some of your favorite artists' pages… which I will be on Jason Mraz's profile.
There is no launch date reported yet for the site's makeover, which is perfect. Now, Timberlake and Myspace owners Chris and Tim Vanderhook have time to take our opinions on what features the revamped site should have. How serendipitous! Here is our wishlist to add to what the new Myspace will do:
1. Let the fans create possible album cover art for upcoming projects.
Because every album Kanye West creates from now on should have a giant picture of a cat on it… that's what he gets for dating Kim Kardashian. Sorry I'm not sorry, 'Ye.
2. Allow fans to chat with artists who are online.
Because everyone should have a way to ask Lindsay Lohan about her dormant singing career. Speak was clearly one of the best albums of '04, why have we had to wait so long for more musical gold?
3. Let fans and aspiring artists record their own duets on artists' released songs.
I just know my harmonies with Adele mesh terribly perfectly, and they deserve to be heard somewhere other than my car.
4. After performances or concerts, let anyone who attended upload their pictures into one giant photo album.
You never know when you're awkwardly photobombing in someone else's pictures accidentally (or in my case, on purpose), so now you can find and have those pictures to cherish forever. It's something to tell the grandkids about: "And this is the time I decided to make a duck face while rocking out to fun. at Lollapalooza!"
[Image Credit: Vimeo]
More:
Chris Brown Tests Positive for Drugs, Continues on Probation for Rihanna Case
Lindsay Lohan Treated for Lung Issue — REPORT