Justin Timberlake's 'The 20/20 Experience' is Streaming Online Right Now! An Early Review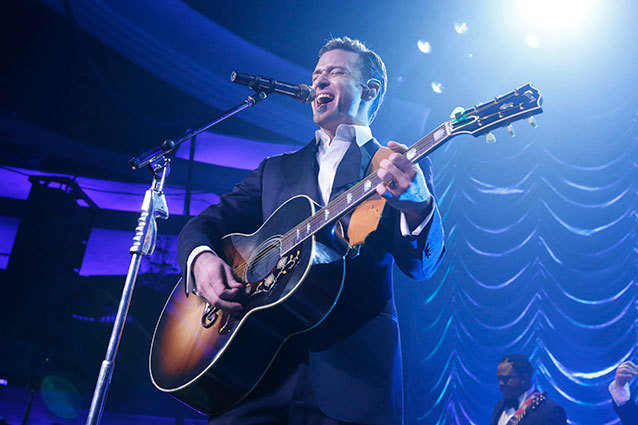 Justin Timberlake's first album in seven years, The 20/20 Experience, isn't scheduled to hit stores until March 19, but the singer has graciously allowed us to release that breath we've been collectively holding for the better part of a decade and stream the album on iTunes starting RIGHT NOW.
Why aren't you listening already?! Do you have a job or something that requires you to be, like, productive?! Sucker. Luckily, Hollywood.com took an hour and ten minutes to listen to the ten brand-new tracks. Here's our very cursory first impression of the album:
RELATED: Justin Timberlake Joins the 'SNL' Five-Timers Club
The 20/20 Experience opens with swelling strings, an intro to "Pusher Love Girl" that's very much in tune with the retro-soul vibe the singer's been channeling in his recent live performances. The song is one of the catchiest of the bunch, and most certainly will be his second or third single. The end of the track transitions into a FutureSex LoveSounds-style interlude, the first of many of its kind.
You've heard (and formed an opinion on) "Suit & Tie" by now, but it really does fit well behind the album opener. The next track, "Don't Hold the Wall," gives us a double blast from the past: An *NSYNC-esque a cappella intro followed by a very clearly Timbaland-produced tune with a stacatto chorus.
The middle of the album is packed with electro-tinged mid-tempo jams like "Strawberry Bubblegum" and "Tunnel Vision," along with the sexy R&B slow jam "Spaceship Coupe" and the old school soul, falsetto "That Girl."
RELATED: Listen to Justin Timberlake's New Single, 'Suit & Tie'
Are any of these new tracks single-worthy? Most certainly all of the songs we've heard in J.T.'s weeks of promo — including "Pusher Love Girl," "That Girl," and "Mirrors" — will get their own releases, but a slightly edited, shorter version of latin-infused "Let the Groove Get In" could definitely fit in on the airwaves…or at least a montage in the newest Step Up movie.
The 20/20 Experience closes with J.T.'s second Saturday Night Live tune from this weekend, "Mirrors," which is the most Justin Timberlake-sounding tune of the bunch and probably his next single, along with the slower, more experimental "Blue Ocean Floor."
Did you listen to the iTune stream yet? What do you think?
Follow Jean on Twitter @hijean
[Photo Credit: Todd Williamson/AP Photo]
---
You Might Also Like:


Topanga's Revealing Lingerie Shoot: Hello '90s!


Stars Who Have Lost Roles For Being Too Hot (Celebuzz)