Justin Timberlake's Video For 'TKO' Is A Bit of a Drag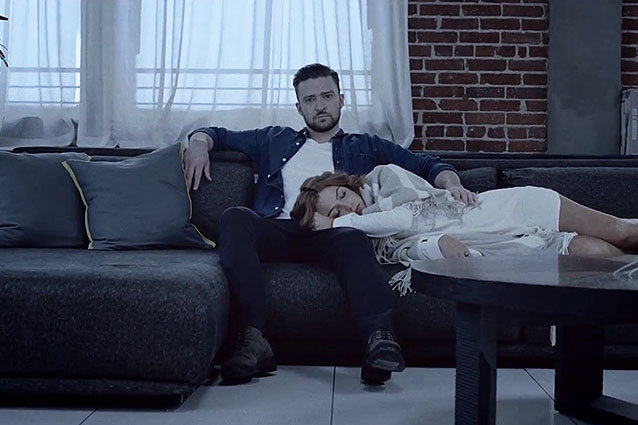 justintimberlakeVEVO/YouTube
A new Justin Timberlake video is a big deal. From the marionettes in "Bye Bye Bye," to the sleek, sophisticated party he threw in "Suit and Tie," to the entirety of "Cry Me A River," his videos are always iconic. The latest addition to his video collection is the cinematic clip for his new single "TKO." In it, Timberlake and Magic Mike star Riley Keough play a couple hurtling toward the end of their relationship, with all of the fighting, attempted reconciliation and frying pans to the head that such a situation entails. The video jumps between the couple in their home and Timberlake being dragged along the ground behind a pickup truck with Keough pouts behind the wheel. It's dramatic and highly stylized… but frankly, a little bit boring. 
It's not a bad video; the underlying story fits well with the song, the washed-out filter gives it the right amount of grit and seriousness, and there's not a single boxing reference in sight. But we expect a lot from a Timberlake video, and in the context of his career, "TKO" just doesn't measure up. Even Timberlake himself seems bored by it, spending every scene in which he's not tied to a truck staring blankly off into the distance. He's gone for a cinematic approach before, like with the excellent short film he made for "What Goes Around… Comes Around," but there's just nothing exciting happening in this video, which is even more disappointing considering it was the perfect opportunity for Timberlake to win over fans and critics who weren't impressed by the single in the first place. 
If the 20/20 Experience has taught us anything, it's that even after a seven year hiatus, Timberlake is one of the biggest and best artists around right now. He can sing and dance incredibly, he's charming and charismatic, and he makes amazing videos, and even though "TKO" isn't one of them, everyone will forget about it and go back to freaking out the second he starts teasing what his next single will be. And if his next video is the kind of entertaining, stylish clip that manages to combine all of his talents — and preferably shows off some of his slick choreography – then all will be forgiven. 
At least we can take comfort in the fact that no matter how boring the video may be, Justin Timberlake always looks incredible.