An Analysis of Kanye West and Naked Kim Kardashian's Incredibly Weird 'Bound 2' Video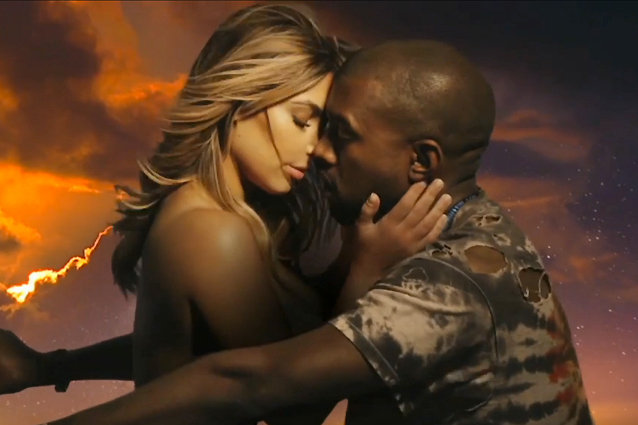 Kanye West / Ellen
Kanye West, former nemisis of Jimmy Kimmel, released his new music video for "Bound 2" on Ellen yesterday. This video was rumored to star West's fiancée, Kim Kardashian. Well, the rumors are true, and sometimes, when you are presented with an embarrassment of crazytown-bonkers riches, it helps to organize exactly what's going on in the most logical way possible. So watch the video, then let us guide you through what you've just seen. 
0:15-0:50: Repurposed National Geographic footage run through the Lisa-Frankenator, giving the majestic beauty of wild horses racing through the American West that computery Uncanny Valley feel. 
0:51-0:59: Then, with a literal record scratch, we see why Kanye is known as the most fashionable rapper — he's mastered the art of power clashing, with not one, but two plaid shirts on siumltaneously. This really helps him stand out from the iPhoto stock background he's standing in front of, or, at least, it would if he was lit from the front. 
1:00: Kim makes her first appearance, in naked, sexy silhouette posed on the back of a motorcycle. Oh, excuse us, Kim's body double makes her first appearance. (First of many.)
1:14-1:30: Among the flash cutting that's kind of on the beat, there's Kanye, now riding said motorcycle, sporting an Ed Hardy t-shirt with holes in it. It's unclear whether Kanye simply wore his pajamas to set and expected a space tuxedo to be CGI'd onto his body, or if this was a subtle nod to how driving a motorcycle without a jacket can erode fabric and skin. 
1:31: Kim looks exactly like her mom, Kris. And is exactly as strategically shot from the shoulders up. 
1:32-1:42: Now Kim is riding the morotcycle behind Kanye. 
1:43-2:00: Some classic awkward Kanye studio rap-dancing. This time with off putting jump cuts and sightline issues that break every rule of filmmaking. 
2:03-2:20: Kanye is pretty quick on his morotcycle, because he's made it all the way from the Grand Canyon to the redwood forests! Somewhere along the way, I guess Kim's shirt got lost, because there's no other reason to be naked and straddling the person driving, right? Man, she sure is shot strategically from the shoulders up.
2:21: Kanye, if you're going to continue driving that fast, you should probably be looking at the road, not the weird line where Kim's head attaches to the double's body!
2:22-3:35: Oh. Sex on a motorcycle. Okay. Wait, how did you guys get back to the Grand Canyon so fast?
3:43-4:05: Is Kim K trying to Beyonce? Please. While the production value is very Bey/Jay circa 2003, that does not mean that some blonde weave and mascara is going to turn a reality TV star into a goddess. Sorry, KK!
4:06: Wow, Kanye is getting really up on that body double! 
4:23: And now he's standing on the motorcycle. What lack of vehicle saftey. 
While this is a great set of Kardashian-West Christmas cards, it can't be a music video, right? That's not possible. Kanye just aggressively filtered his vacation photos and made them into a slideshow. That's what this is. Oh, Yeezey. This is just like when you released that clip of you playing Sims as the Black Skinhead video!