Kanye West Doesn't "Give a F**k" About the President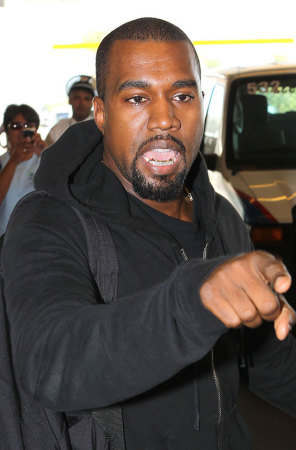 Kanye West doesn't care about what you think. He doesn't care about the Grammys, he doesn't care for Jay-Z's latest collaboration with Justin Timberlake, and he certainly doesn't care about the president's opinion. During a rant at a concert in London on Saturday (which included charmers like, "The Grammys can suck my d**k," and "I got love for Hov, but I ain't f**kin' with that 'Suit & Tie'"), West revealed his disinterest in President Obama's not-so-high opinion of him. "I don't give a f**k what the president's got to say," West said.
Weezy is of course referring to the two times President Barack Obama has referred to the rapper as a "jackass." The first was during an interview with CNBC, following West's interruption of Taylor Swift when she accepted her award at the 2009 MTV Video Music Awards. The second was last April, in a piece in The Atlantic. In the latter incident, writer David Samuels asked Obama who he preferred, "Kanye or Jay-Z?" To which Obama replied, "Jay-Z … Although I like Kanye. He's a Chicago guy. Smart. He's very talented." When Samuels then reminded Obama that he once called West a jackass, Obama replied, "He is a jackass."
RELATED: Kanye West's Lyrics Get Baby-Friendly Lullaby Makeovers
So while there's clearly no love lost between West and the Prez, the American public seems to be losing its patience with West. He has paired up with one of Hollywood's most polarizing figures — Kim Kardashian — and now seems to be purposefully antagonizing public figures America loves to love. Jay-Z? He's the best. Obama? The very best. Justin Timberlake? The bestity best best best. And yet, Kanye doesn't give a f**k.
Kanye's fall in popularity is nothing new. It's safe to say that he's been riding a downward trajectory since the infamous VMAs outburst, and not even his Watch the Throne album and tour with everyone's favorite husband of Beyoncé, Jay-Z, could buoy him back up. But now that Weezy has snuggled with Kim on Keeping Up with the Kardashians, it's safe to say he has hit a new low.
RELATED: Beyonce to be Godmother to Kim & Kanye's Baby?
Scientific, sociological studies (studies! with like, numbers!) have even proven that West's popularity has tanked since he impregnated a Kardashian. Does this make them the most annoying couple ever? E-Poll Senior Director of Marketing and Communications Randy Parker, the conductor of West's popularity poll, told the Huffington Post, "He was starting to bounce back from [the 2009 VMA incident with Taylor Swift] … There does appear to there is some sort of fallback or blowback from him hooking up with Kim. One of the things we measure is an attribute called 'Overexposed.' We find that people use it as a general way of saying, 'I've had it with you. You've just gone a little too far.' I'm guessing his overexposed score is quite high."
You guess right, kind sir. Unfortunately, the antidote to overexposure is definitely not more reality TV.
Follow Abbey on Twitter @AbbeyStone
[Photo Credit: MiamiPIXX/BRJ/FameFlynet]
---
From Our Partners:


25 Most Scandalous Celeb Twitpics (Vh1)


33 Child Stars: Where Are They Now? (Celebuzz)