Kanye West Kroons About Kourting Kim Kardashian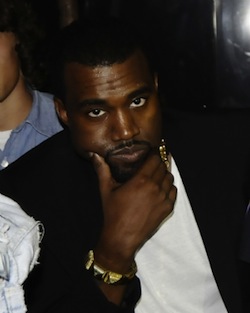 Kanye West
is fed up with the fact that people have been spreading rumors about his personal life. In his jaw-dropping, new single — "Theraflu" — it seems that Kanye finally comes clean about his breakup with Amber Rose, reveals that he fell in love with
Kim Kardashian
, and seems to attack Kris Humphries for the fact that he stole Kardashian away from him. Kanye, do you feel better now?
Rumor one: Kanye was upset that Wiz Khalifa got engaged to his ex, Amber Rose.
Kanye doesn't seem to mind Khalifa and Rose's relationship at all. "And the whole industry wanna f*ck yo' old chick," he sings. "Only n*gga I got respect for is Wiz."
Rumor two: Kardashian broke Rose and Kanye up.
Yes, it appears that Kardashian did play a part in the split. "I'll admit, I fell in love with Kim," Kanye confesses.
But Kanye's relationship with Kardashian didn't turn out as planned because she met Kris Humphries. "Round the same time she had fell in love wit' him," Kanye says.
Kanye doesn't hold it against Kardashian though. "Well, that's cool, baby girl, do ya thing," he says. "Lucky I ain't have Jay drop 'im from the team."
But he doesn't seem to like Humphries, and appears to take a direct swing at him. "La familia, Roc Nation / We in the buildin', but still keep it basement / Flyer than the parakeet, floatin' wit' no parachute Six thousand-dollar pair of shoes, I made it to the Paris news," Kanye sings. "Don't talk about style, 'cause I embarrass you."
Kanye seems to want Humphries to know that just because Humphries owns Louis Vuitton shoes and plays basketball, that doesn't make him a somebody. Humphries will never be as famous as Kanye.
Kanye also seems to warn Humphries to stop attacking Kardashian in the news. "Shut the f*ck up when you talk to me 'fore I embarrassed you G.O.O.D," Kanye states. "Music, we fresh, we fresh / Anything else, we detest, detest / B*tch-*ss n*ggas got *ss and breasts / All that said, lemme ask this quest'"
Wow. This is just my interpretation of the music. But, what do you think? Is Kanye directly confronting the problems surrounding his personal life?
Listen to "Theraflu" below.
[KillerHipHip.com, Huffington Post]
More:
Kanye Sued Over Illegal Sampling