Kanye West Insists He's 'Not a F**king Celebrity,' Rants Angrily About 'Saturday Night Live'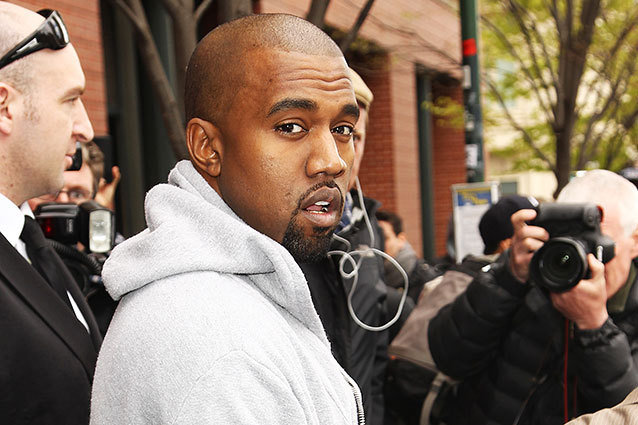 After years of glorifying his own image and transforming his name and identity into a highly advertised brand, Kanye West has decided that he's actually not too keen on being famous. The hip-hop artist decided to make this public declaration at the most appropriate venue to denounce one's own stardom: the Adult Swim upfront presentation, at New York's Roseland Ballroom.
On Wednesday night, West deemed a ceremony devoted to announcing new episodes of Venture Bros. as the perfect platform to tell everyone who has ever cared about him — the devoted fan base he mustered by persistently reminding the world how great he thinks he is — that he "ain't no motherf**king celebrity."
Hired to perform at the New York exhibition, West belted out a ferocious tirade — coupled with a gigantic screen of crows pecking at each other (…because it's poetic?) — against the public, the paparazzi, and anyone who dared entertain the idea that he might be willing to participate in a few Saturday Night Live skits during his performance as musical guest on the show this coming weekend. Said the tortured artist, "I ain't doing no motherf**king SNL skits, this my goddamn life." His life, people. Just look how poorly Justin Timberlake has been doing ever since he started in on that variety show racket.
Listen to West's rant, and read the transcription below:
Kanye's rant in full:
"One thing about me. I'm the worst kinda, worst kinda, worst kinda celebrity … because all I do is make real music. All I do is sit in the studio and make real, real shit. and that's it. That's motherf**king it. That's motherf**king it. So I don't want nobody trying to run up on me with no cameras, trying to sell pictures and s**t to magazines, asking me no dumbass questions. throwing me off of my focus and s**t. Harassing you all motherf**king day. I ain't no motherf**king celebrity…
[A friend asked, 'Are you] going to do like a skit about the paparazzi and s**t and like humanize yourself [on Saturday Night Live]?' I ain't here to apologize to no motherf**kers man. It ain't about me humanizing myself. At what point did I become unhuman where I had to turn myself back? Or maybe I was demonized. Or maybe I was treated inhumane and not human in that kind of situation.
"I ain't no motherf**king celebrity. I ain't running for office. I ain't kissing nobody's motherf**king babies. I drop your baby and you sue me and s**t. I'm trying to make some music that inspires people to be the best they can be. I don't want nobody to ask nothing else of me. Don't ask nothing else of me. Motherf**kers chasing you down 'bout to make you crash and s**t. And all they want is one n**** to laugh and shit. Hell nah I ain't doing no motherf**king SNL skits, this my goddamn life. This ain't no motherf**king joke. That's it. Stop that shit right there."
Follow Michael Arbeiter on Twitter @MichaelArbeiter
More:
Kanye West Is Filming a Cameo in 'Anchorman 2'
Kanye West Walks Into a Street Sign
Kanye West Serenades Kim K at the 2013 Met Gala
---
From Our Partners:


What Happened to 33 Child Stars (Celebuzz)


40 Most Revealing See-Through Red Carpet Looks (Vh1)