Kanye West Sued Again Over Illegal Sampling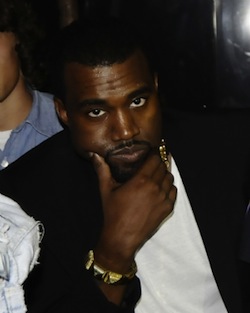 You'd think after being sued two or three times over sampling artists' work without their permission, you'd learn a thing or two about copyright law. Yet, Kanye West has just been hit with his fourth lawsuit from a disgruntled musician.
Robert Poindexter of the Persuaders is seeking $500,000 in damages from the rapper for allegedly using a piece of the band's 1972 hit "Trying Girls Out" in his remix of "Girls Girls Girls" from Freshman Adjustment 2. Poindexter says West was well aware that he didn't have permission to use the song on the 2006 mix tape because he used a cleared sample of the track in the version of "Girls Girls Girls" from Jay-Z's 2001 album The Blueprint.
Previously, West has been sued for using Joe Farrell's 1974 song "Upon This Rock" in "Gone" and Dayna 'D'Mystro' Staggs song "Volume" in "Good Life." West and Jay-Z just settled a lawsuit with Syl Johnson, who claims they used an unauthorized sample of his song "Different Strokes" in "The Joy" on Watch the Throne. West got off lucky with "Diamonds from Sierra Leone," which relied heavily on "Diamonds Are Forever." Shirley Bassey only threatened to sue over the use of her song, explaining, "He didn't ask my permission to have me singing on the his song. I didn't even know it existed until I heard him performing at the Live 8 concert. I didn't even hear from his record company, which wasn't very nice."
You can listen to the subject of West's latest legal trouble below.
The Persuaders' "Trying Girls Out"
Kanye West's "Girls Girls Girls" [NSFW]
[Rolling Stone, BBC, Gigwise]