Kanye West vs. Jay Z: The Battle to Be America's Most Loved Hip-Hop Star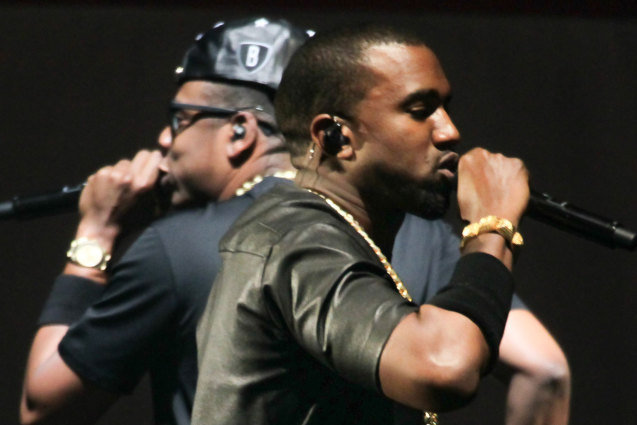 Getty Images
Today, an absolutely unforgivable act occurred: Jay Z announced his Magna Carta Holy Grail Tour the same day as Kanye West announced his Yeezus Tour. To make matters worse, Jay Z's tickets go on sale one day before West's. Obviously Twitter blew up with accusations that Jay Z and West are in a bitter battle to beat each other out. 
While at first blush this seems ridiculous — Jay and Kanye are besties! — the more we think about it, the more it seems to contain a kernel of truth. This isn't the first time Jay Z and West have competed. Most recently, Jay Z announced his new album, Magna Carta Holy Grail, right in the middle of the promotional period for Yeezus. Before that, Jay Z went on tour with Justin Timberlake where he performed "N****'s in Paris" without West.  In another instance, West shot down Jay Z when he claimed he didn't like the song "Suit & Tie." Since it seems a gauntlet has been thrown, we've decided to compare Jay Z and West and see who wins the title of America's Favorite Hip-Hop Star.
Number One Hits: 
According to Billboard.com, both Jay Z and West have had four No. 1 hits in their careers. Jay Z had "Heartbreaker," "Umbrella," "Empire State of Mind," and "Crazy in Love." West had the hits "Slow Jamz," "Stronger," "E.T.," and "Gold Digger." While this is technically a tie, West had more songs where he was the main artist, so this round goes to him. 
Winner: Kanye West
Significant Others: 
While both Kim Kardashian and Beyoncé are famous in their own right, these men get kudos for hooking up with such lovely ladies — but who is the winner? While Kim K. is a tabloid princess, Bey is a Queen. So, in this case, we have to say Jay Z takes the point. Together, Jay Z and Beyoncé make some awesome music together, as shown in their No. 1 hit, "Crazy in Love." Plus, they're adorable when they perform, as shown in this video (below). Secondly, we just love Beyoncé more than we love Kim — sorry, harsh but true. 
Winner: Jay Z 
Stage Presence: 
While both West and Jay Z give amazing concerts, West still can't overcome to sigma of interrupting Taylor Swift while she accepted her award for Best Female Video at the 2009 VMA awards (no matter how many times he jokes about or apologizes for it). At that point, Swift was America's Sweetheart and West immediately turned into the Villian of the Year. Though West has cleaned up his act since then, Jay Z wins this round for always acting professional, and never utterinig the phrase "I'ma let you finish…" 
Winner: Jay Z
So the new titleholder for America's Most Loved Hip-Hop Artist'is…. Jay Z! While both men have serious presence in the music world, Jay Z wins for having awesome taste in women and even better taste in human decorum. Good luck next time, Kanye, we know this won't be the last battle in this war. 
More:
Website Highlights Kanye West's 'Post-Baby Body' 
Jay-Z Ditches the Hyphen: He Now Only Answers to Jay Z
Taylor Swift Turns 23, So Grow Up Already!
---
From Our Partners:


A Complete History Of Twerking (1993-2013) (Vh1)


15 Stars Share Secrets of their Sex Lives (Celebuzz)